Events Listings
Events: This month
Showing 1 - 5 of 21 events
LD in HD
Date: 04 October 2018 - 28 October 2018
Every day
Location: East Kilbride Arts Centre
Time: 10:00 - 20:00
LD in HD 4-28 October 2018 10:00am-8:00pm Free admission East Kilbride Arts Centre

Les Donaghy returned to the easel a little over four years ago, and quickly established himself on the contemporary art scene. Although probably best known as a portrait painter, Les has used this time to develop the skills required to paint almost any subject matter, and this exhibition tries to show just that.
The title comes from the fact that Les has been branded as an "ultra-realist" or, as one viewer said, "it's like looking at a picture in HD".
The exhibition itself is in two parts. Some drawings and 'lower-priced' works will be presented in the Arts Cafe, while larger works may be seen in the Arts Centre's Gallery. Work ranges from eight inches square to a little over a metre, and there is little doubt there is something for everyone to enjoy here.
Cost: Free admission
---
Biggar RFC October Camp 2018
Date: 15 October 2018 - 17 October 2018
Every day
Location: Biggar RFC
Time: 09:00 - 16:00
Biggar RFC October Camp 2018 15-17 October 2018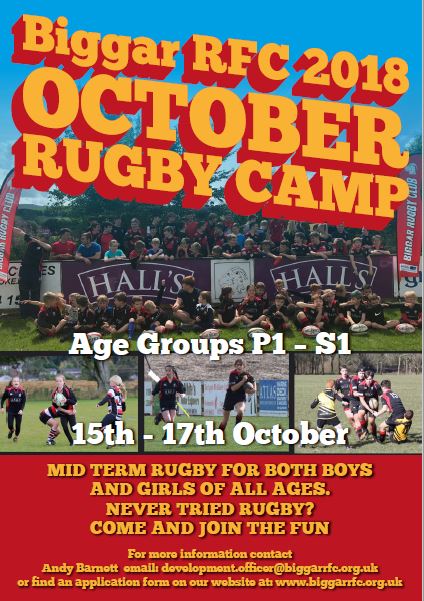 Biggar RFC October Rugby Camp, 15th to 17th October 2018
Ages: P1 – S1
The nature of the camp is first and foremost to have fun and meet new friends in a rugby environment.
Find the Biggar RFC October Camp booking form on their website at www.biggarrfc.org.uk
For further information please contact Andy Barnett at development.officer@biggarrfc.org.uk
Cost: £60 non members / £45 members
---
The Snail and the Whale
Date: 16 October 2018 - 17 October 2018
Every day
Location: Village Theatre East Kilbride
Time: 11:00
The Snail and the Whale 16-17 October 2018 11:00am and 1:30pm £11.00 / group 10+ £8.00 East Kilbride Village Theatre

Tall Stories Presents "The Snail and the Whale"
Based on the bestseller by Julia Donaldson and Axel Scheffler.
Join a tiny snail on her trip round the world in Tall Stories' magical, musical production inspired by the fantastic bestselling picture book by Julia Donaldson and Axel Scheffler.
Longing to see the world, a tiny snail hitches a lift on the tail of a humpback whale. Together they go on an amazing adventure - but when the whale gets beached, how will the snail save him? Follow the tiny snail's exciting journey, as seen through the eyes of an adventurous young girl and her seafaring father...
Storytelling, live music and lots of laughs for everyone aged 4 and up, from the Olivier Award-nominated company that brought you 'The Gruffalo' and 'Room on the Broom' live on stage.
"There's real charm in this production." ★★★★★ The Scotsman
"Faultless family fare" ★★★★★ WhatsOnStage
"Joyous in every way… a textbook example of how to do theatre for children right"★★★★★ Broadway Baby
"Captivating, inventive storytelling along with beautiful live music"★★★★★ Edinburgh Festivals for Kids
Available to book online or by calling East Kilbride Arts Centre on 01355 261000.
Cost: £11.00 / group 10+ £8.00
---
Swan Lake
Date: 17 October 2018
Location: Hamilton Town House
Time: 19:30
Swan Lake 17 October 2018 7:30pm £25.00 / £23.00 concession / Family (x4) £75.00 The Town House, Hamilton

Russian National Ballet Presents Swan Lake
The greatest of all romantic ballets
Music by Pyotr I. Tchaikovsky
After the sold-out performances of Nutcracker last year, Russian National Ballet is back to the UK with the most famous Ballet of all time. Swan Lake is one of Tchaikovsky best works featuring some of ballet's most memorable music and breath-taking dance.
Swan Lake is a tale of two young women, Odette and Odilie, who resembles each other so closely one can easily be mistaken for the other.
It is the compelling legend of a tragic romance in which a princess, Odette, is turned into a swan by an evil curse. Prince Siegfried chances upon a flock of swans while out hunting. When one of the swans turns into a beautiful young woman he is instantly captivated – will his love prove strong enough to break the evil spell that she is under?
Swan Lake is full of mystery and romance and has captured the imagination of timeless generations over the years, and continues to attract worldwide audiences, young and old.
A wonderful evening out from which you will cherish memories for a long time.
For more information, please go to www.russian-national-ballet.com
Available to book online or by calling The Town House, Hamilton on 01698 452299.
Cost: £25.00 / £23.00 concession / Family (x4) £75.00
---
Tea Dance
Date: 18 October 2018
Location: Rutherglen Town Hall
Time: 13:30 - 15:30
Tea Dance 18 October 2018 1:30-3:30pm £2.50 Rutherglen Town Hall

Our hugely popular, long running Tea Dances will take place on Thursdays on the following dates:
19 July
16 August
20 September
18 October
15 November
29 November
John Findlay provides the live music for our series of Tea Dances with a mixture of sequence and ballroom to suit all tastes.
Tea and biscuits provided.
Book early to avoid disappointment!
Box Office: 0141 613 5700
Cost: £2.50
---
Next Page