The Gym at the Dollan Aqua Centre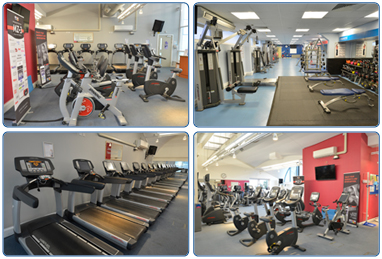 Dollan Aqua Centre's gym in the heart of East Kilbride has something for everyone from a more traditional gym with the latest 'Life Fitness' cardio and 'HUR' compressed-air resistance equipment to a separate gym that is split into four zones for stretching, vibration, suspension and strength work.
Gym one's cardiovascular equipment is in the form of Treadmills, Elliptical joggers and Upright and Recumbent Bikes with each having an Inclusive Fitness Initiative (IFI) compliant piece in its range making it suitable for all abilities. We also have a Climber and Stepper as well as 'Concept' Rowers, again with one being IFI compliant.
Our 'HUR' resistance equipment comprises six IFI compliant machines enable users to target all their major muscle groups ensuring constant and complete control of resistance throughout their range of movement unlike more traditional equipment. This means, along with their simplicity, that they are suitable for all ages and abilities.
Gym two is split into four zones:
Stretching zone- matted area for warm down and up/floor exercises with wobble boards and medicine balls
Body core zone- vibration technology to increase workout intensity when performing static or motion exercises whilst on equipment
Suspension zone- TRX frame to use your own bodyweight as resistance
Strength zone- free weights (e.g. dumbbells and kettle bells) and a complete range of Human Sport independent pulley resistance equipment, a dual action pulley and a Max Rack (Smith machine with two planes of movement).
Our highly qualified and motivated staff are on hand to help you meet your goals. They offer a full range of services included in your Perfect Fit.
The gym is available for customers aged 12 years and over. All under 16s must complete their Perfect Fit (five appointments) at any South Lanarkshire Leisure and Culture gym. Twelve and 13 year olds must be accompanied by an adult during times that the gym is unstaffed.