Contact details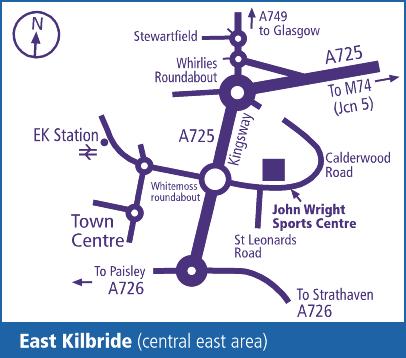 John Wright Sports Centre
Calderwood Road
East Kilbride G74 3EU
Head of facility
Ian Thompson
Tel: 01355 237731
Fax: 01355 225699
Email: johnwrightsports@
southlanarkshireleisure.co.uk.
The Club opening hours
Monday 7.30am-10.45pm
Tuesday 7.30am-10.45pm
Wednesday 7.30am-10.45pm
Thursday 7.30am-10.45pm
Friday 7.30am-9.00pm
Saturday 7.30am-7.00pm
Sunday 7.30am-8.00pm
Main opening hours
Monday 10.00am-11.00pm
Tuesday 10.00am-11.00pm
Wednesday 10.00am-11.00pm
Thursday 10.00am-11.00pm
Friday 10.00am-10.00pm
Saturday 10.00am-8.00pm
Sunday 10.00am-10.00pm
Disabled access
The Centre has disabled parking (5 spaces), automatic entrance doors, accessible reception, accessible changing area, accessible toilet, courtesy wheelchair, lift, Hearing Loop, Language Line and Typetalk. Assistance dogs are welcome.