ActiveIT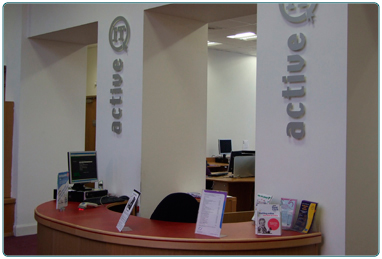 All South Lanarkshire Leisure and Culture libraries have ActiveIT Learning Centres offering free internet access, Microsoft office 2013, and access to a range of online services including Driving Theory Test Pro, eBooks, eMagazines and the library catalogue.
Use of ActiveIT Centres is free, however there is a charge for printing.
Booking Procedure
You can book a computer in advance, by booking online or contacting the library, or just drop in. If you are not a library member you can join on the day or join online today.
We'd advise you to book ahead as ActiveIT Centres are often busy at peak times. You may book a computer up to 7 days in advance and for a total period of up to 2 hours.
If the computer is not required by another user at the end of your booking period you may extend your booking by a further hour.
You will need your library membership card to take up your booking.
activeIT facilities in South Lanarkshire Leisure and Culture libraries
Library (click the link for contact details)
activeIT facilities
Avondale Community Wing
6 PC workstations with office applications, computer-based training packages and full internet access.
Colour and high-speed laser black and white printing available
Flatbed scanner available
Biggar Library
7 PC workstations with office applications, computer-based training packages and full internet access.
Colour and high-speed laser black and white printing available.
Flatbed scanner available.
Free wi-fi available
Blackwood and Kirkmuirhill Library
2 PC workstations with office applications, computer-based training packages and full internet access.
Colour and high-speed laser black and white printing available.
Free wi-fi available
Blantyre Library
6 PC workstations with office applications, computer-based training packages and full internet access.
Colour and high-speed laser black and white printing available.
Bothwell Library
3 PC workstations with office applications, computer-based training packages and full internet access.
Colour and high-speed laser black and white printing available.
Burnbank Library
6 PC workstations with office applications, computer-based training packages and full internet access.
Black and white printing available.
Flatbed scanner available.
Cambuslang Library
6 PC workstations with office applications, computer-based training packages and full internet access.
Colour and high-speed laser black and white printing available.
Flatbed scanner available.
Free wi-fi available
Carluke Library

10 PC workstations with office applications and full internet access.
Colour and high-speed laser black and white printing available
Flatbed scanner available
Wifi available for public use.

Cathkin Library
5 PC workstations with office applications, computer-based training packages and full internet access.
Colour and high-speed laser black and white printing available.
East Kilbride Central Library
14 PC workstations with office applications, computer-based training packages and full internet access. A further PC is available at the desk for short (up to 15min) usage.
Colour and high-speed laser black and white printing available.
Flatbed scanner available.
Free wi-fi available
Fairhill Library
12 PC workstations with office applications, computer-based training packages and full internet access.
Colour and high-speed laser black and white printing available.
Two flatbed scanners available.
Free wi-fi available
Forth Library
2 PC workstations with office applications, computer-based training packages and full internet access.
Colour and high-speed laser black and white printing available.
Greenhills Library
5 PC workstations with office applications, computer-based training packages and full internet access.
Colour and high-speed laser black and white printing available.
Flatbed scanner available.
Free wi-fi available
Halfway Library
3 PC workstations with office applications, computer-based training packages and full internet access.
Colour and high-speed laser black and white printing available.
Hamilton Townhouse Library
14 PC workstations with office applications, computer-based training packages and full internet access.
Colour and high-speed laser black and white printing available.
2 flatbed scanners available.
3 junior PC workstations offering educational games and internet access.
Free wi-fi available
Hillhouse Library
8 PC workstations with office applications, computer-based training packages and full internet access.
Colour and high-speed laser black and white printing available.
Flatbed scanner available.
Free wi-fi available
Lanark Library
11 PC workstations with office applications, computer-based training packages and full internet access.
Colour and high-speed laser black and white printing available.
Flatbed scanner available.
Free wi-fi available
Larkhall Library
7 PC workstations with office applications, computer-based training packages and full internet access.
Black and white printing available.
Flatbed scanner available.
Free wi-fi available
Lesmahagow Library
3 PC workstations with office applications, computer-based training packages and full internet access.
Colour and high-speed laser black and white printing available.
Flatbed scanner available.
Free wi-fi available
Rutherglen Library
15 PC workstations with office applications, computer-based training packages and full internet access.
3 junior PC workstations.
Colour and high-speed laser black and white printing available.
Flatbed scanner available.
Free wi-fi available
St Leonards Library
5 PC workstations with office applications, computer-based training packages and full internet access.
Colour and high-speed laser black and white printing available.
Flatbed scanner available.
Stonehouse Library
5 PC workstations with office applications, computer-based training packages and full internet access.
Colour and high-speed laser black and white printing available.
Flatbed scanner available.
Free wi-fi available
Uddingston Library
4 PC workstations with office applications, computer-based training packages and full internet access.
Colour and high-speed laser black and white printing available.
Flatbed scanner available.
Free wi-fi available