Disability sports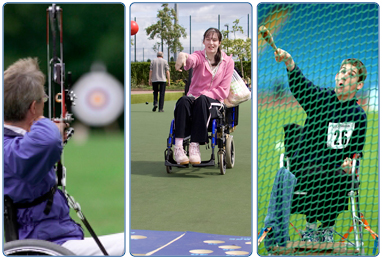 The Sport and Physical Activity Team aim to encourage and promote sport and physical activity to young people with disabilities in South Lanarkshire.
Work with Community Clubs
In partnership with South Lanarkshire Disability Sport, South Lanarkshire Leisure and Culture work with a number of community clubs that offer various sports activities for people with a disability.
National, Regional and Local Events
Every year Scottish Disability Sport and other partners provide a programme of national and regional sports events.
South Lanarkshire Leisure and Culture support young people in the participation of these events and also organise our own local events throughout the year.
School of Sport
Supported by South Lanarkshire Council, South Lanarkshire Leisure and Culture organise a School of Sport where over 80 young people with various disabilities have the chance to attend a two day residential school of sport at Scotland's National Sports Centre.
The two day intensive School of Sport has a number of sports on offer including inclusive sports like, New Age Kurling, alongside traditional sports like golf, football and tennis. Each young person attending receives a special participation medal.
Friendship First Events Programme
The "Friendship First" events programme organised in partnership with Social Work Services offers Leisure and Culture sessions at various venues across South Lanarkshire suitable for adult Service Users.
The events operate mainly at evenings and weekends and are come and try sessions; it's all about making new friends and trying new activities.
For further information on the events please contact SLLC on 01698 476108.