Positive Coaching Scotland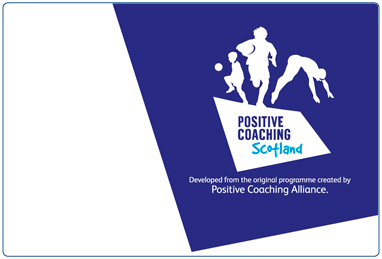 What is Positive Coaching Scotland?
Positive Coaching Scotland (PCS) is based on a highly successful US model which was developed at Stanford University in 1998 to combat escalating health and social problems.
PCS creates a positive environment in youth sport which focuses on encouraging effort and learning, improving performance and fostering competition. This combination helps young people deal positively with mistakes.
PCS offers a visionary new approach - a practical alternative to the "win at all costs" mentality and a timely response to the challenges facing youth sport. It provides the tools and framework for a positive sporting experience that can also be character-building.
PCS in South Lanarkshire
PCS is specifically aimed at the key influencers in a child's life - sports leaders, coaches, parents and teachers and aims to encourage a cultural shift in Scotland, thereby inspiring young people to reach their potential.
We strive to ensure that all our coaches and volunteers through the Active Schools Network are PCS trained and delivering the PCS ethos when they are working with children.
At a national level sportscotland and a number of the sports governing bodies are fully behind engraining PCS within all clubs and locally our aim is to provide direct support in doing this through our Community Sports Hubs and Club SL Scheme. Should a club wish to take the steps to become PCS affiliated then all they have to do is get in touch.
For more information on PCS and to find out how PCS can add value to your club and coaching please contact: