Contact details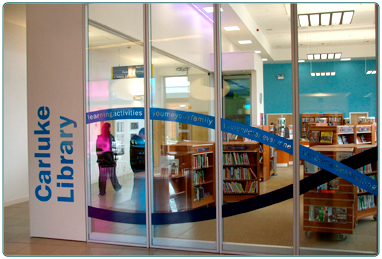 Carnwath Road
Carluke
ML8 4DF
Clydesdale
Tel: 01555 772134
Fax: 01555 770357
Email: carluke@library.s-lanark.org.uk
Library opening hours
Mon 9:15am – 5:00pm
Tue 9:15am – 5:00pm
Wed 9:15am – 5:00pm
Thu 1:15pm – 8:00pm
Fri 10:00am – 5:00pm
Sat 9:15am – 1:00pm
Sun Closed
Active IT Facilities
The Active IT suite opens when the library opens and closes 15 minutes prior to the above closing times.
10 PC workstations with office applications, computer-based training packages and full internet access
Colour and high-speed laser black and white printing available
Flatbed scanner available
Disabled access
There is full disabled access to the library. There are disabled parking bays in the car park. Assistance dogs are welcome.
Additional information
The nearest alternative libraries are Lanark and Larkhall libraries.
There is a library-led reading group held at this library.