Contact details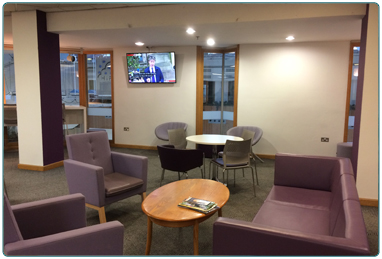 The Olympia Shopping Centre
East Kilbride
G74 1PG
Tel: 01355 220046
Fax: 01355 229365
Email: eastkilbride@library.s-lanark.org.uk
Library opening hours
Mon 9:15am – 6:00pm
Tue 9:15am – 6:00pm
Wed 9:15am – 6:00pm
Thu 9:15am – 8:00pm
Fri 10:00am – 6:00pm
Sat 9:15am – 5:00pm
Sun 12:30pm – 4:00pm
Active IT Facilities
The Active IT suite opens 15 minutes after the above opening times, and closes 15 minutes prior to the above closing times.
14 PC workstations with office applications, computer-based training packages and full internet access, and one PC at the desk for short (up to 15min) usage.
Colour and high-speed laser black and white printing available
Flatbed scanner available
Additional Facilities
Centre also has a training room with facilities for a trainer and eight trainees. A coffee area overlooking the ice-rink allows users to take a relaxing break from the computer screen.
Reference and Information
The library has an extensive reference and local history collection with specialist staff on hand to help you.
Disabled access
Although the library is on the upper level of the shopping centre, there is lift access to the library entrance. The library has full disabled access and facilities, with IT adaptations. Contact the library for further details. Assistance dogs are welcome.