ACE children's activities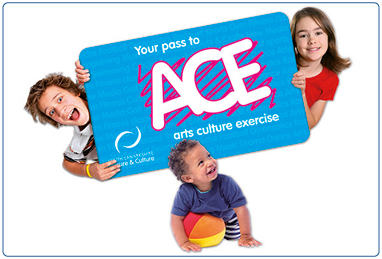 ACE
What is it
ACE is our extensive fun-filled programme of Arts, Culture and Exercise activities for children. Check out our ACE timetable for all our current ACE activities. These activities are split into different age groups as follows:
0-18 months: 12 weeks onwards (parent/guardian involvement)
18 months - 3 years (parents/guardians are required to stay for these classes)
3 - 5 years: 3 years old to 5 years old (pre-school)
P1-P3: 5 years old to 7 years old
P4-P7: 8 years old to 12 years old
S1-S4: 12 years old to 15 years old
Ways to pay
ACE can be accessed on a pay-as-you-go basis or through our ACE membership. Our ACE membership entitles you to participate in as many ACE activities as you like, with some additional ACE perks for only £25.05 per month.
A concession of up to 50% is available for Leisure for All cardholders. A 20% discount is also offered for the siblings of one full paying child or for a child that is already a swimming lesson member.
To become an ACE member, contact your local leisure centre or cultural venue, or

How to book ACE activities
Browse our ACE timetable or ACE brochures below and then book by contacting your local leisure centre or cultural venue or

ACE Brochures
For the August 2018-June 2019 terms, have a browse through our term-time ACE Brochures below, which are split into four geographical areas.
For children under five years, check out what's available in our Tiny ACE brochure.