Contact details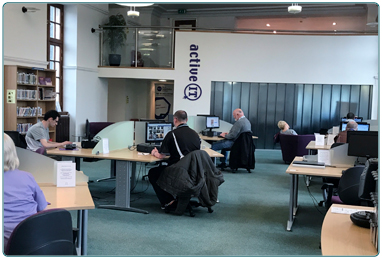 102 Cadzow Street
Hamilton
ML3 6HH
Tel: 01698 452122
Fax: 01698 452199
Email: hamilton@library.s-lanark.org.uk
Opening hours
Mon 9:15am – 5:00pm
Tue 9:15am – 5:00pm
Wed 9:15am – 5:00pm
Thu 9:15am – 8:00pm
Fri 10:00am – 5:00pm
Sat 9:15am – 5:00pm
Sun Closed
Active IT Facilities
The Active IT suite closes 15 minutes prior to the above branch closing times.
14 PC workstations with office applications, computer-based training packages and full internet access
Colour and high-speed laser black and white printing available
Two flatbed scanners available
3 junior PC workstations offering educational games and internet access
Disabled access
Newly refurbished building with good disabled access including external and internal ramps and lift access to the upper floor. Contact the library for further details. Assistance dogs are welcome.
Reference and Heritage
The library has an extensive reference and local history collection. Specialist staff are available to help you. Please contact the library in advance if your enquiry will involve detailed research.
Additional information
The nearest alternative libraries are Fairhill and Burnbank.
There are three readers groups currently meeting each month in Hamilton Town House Library. Please enquire if you are interested to join.