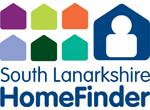 If you want to apply for a home and be placed on the housing list with a housing association, Co-op or the council in South Lanarkshire, you only need to fill out one form
This is because the council, three tenant management co-operatives and seven housing associations are working together to provide HomeFinder, a common register of the houses they have available for rent.
How to make your application
There are additional forms if you need to:
What happens after an application is received?
Once your completed application is received, it will be assessed on the basis of your individual circumstances.
All HomeFinder landlords use the same criteria to assess your circumstances and prioritise your application. After your application has been assessed, we will write to you to let you know the outcome of our assessment and to confirm your application preferences.
Service standards
We aim to provide you with a good quality service. To make sure that we deal with your housing application effectively we have set the following standards for how we manage your housing application.
We will:
assess your application within five working days of receiving all necessary information;
amend your application within five working days of receiving details of the change in your circumstances;
review your application every year;
write to advise you that a change has been made to the status of your application (for example, your application has been cancelled, suspended or deferred) within three working days of the change being made.
How are points awarded?
You can read more about how we assess your circumstances and award points in our HomeFinder booklet. This booklet also provides details on our service standards and how we manage your application.
For further information, you can also read about the Council Housing Allocation Policy and the Local Letting Plans.
Homeless
If you are homeless or threatened with homelessness, you can also view our pages on Homelessness for further information.
Armed forces
If you have just left or are about to leave the armed forces and you want to know more about veterans housing options available to you in South Lanarkshire, you can also view our pages for veterans.
Appeal
If you don't agree with a decision that any of the HomeFinder landlords have made about your application, you can appeal using the HomeFinder appeal booklet.
Help
If you need help to fill in the application form please contact any of the HomeFinder Landlords who will arrange to help you. If you cannot leave your home for example due to ill health or a disability, we can arrange to visit you and complete the form with you in your home.
If you are making an enquiry on behalf of someone else, please contact any of our HomeFinder landlords or our Q and A offices who will be able to advise you.