Chatelherault is 'much loved' by the public
Published: Thursday, 19 September 2019

Chatelherault is 'much loved' by the public
Chatelherault country park has been awarded 'much loved' status in a nationwide vote.
The UK's Best Park, organised by green space charity Fields in Trust, received a record 364 nominations with an unprecedented 36,382 votes cast. Chatelherault was one of just 42 Scottish parks nominated and after the vote, made the final ten in the country – and the only in Lanarkshire - to be recognised as 'much loved'.
The award recognises the role that parks play in communities, supporting mental and physical health and bringing people together.
Councillor John Ross, Leader of South Lanarkshire Council, is a regular user of Chatelherault's woodland walks and facilities.
He said: "The 5th Duke of Hamilton's hunting lodge at Chatelherault was restored 27 years ago. And, now, what was once a crumbling building is restored in all its 18th century glory and visited by more than 200,000 people each year.
"I am proud to count myself as one of those, and spend time biking, running and just enjoying it with family, especially my Grandson Jack, (pictured) on a regular basis.
"In the last three years alone, around half a million pounds has been spent on a woodland regeneration programme which has restored a vital part of the Clyde Valley Woodlands National Nature Reserve. We have also reconstructed 10 kilometres of footpath on the west side of the park from the Duke's monument at Barncluith to the Green Bridge beside Larkhall and works is ongoing to repair and restore the main bridges in the park.
"As a 5 -star visitor attraction, the council and South Lanarkshire Leisure and Culture will continue to invest in the site, its woodland and resources. Its reputation as a venue, its heritage and attractions continue to combine to create, what we believe, is one of the best free days out in South Lanarkshire."
Meanwhile, Chatelherault's 'Cadzow Oak' is one of six Scottish finalists in the Woodland Trust's 'Tree of the Year' competition.
One of 300 very ancient oaks growing on what were the hunting grounds of the Duke of Hamilton, it's believed to be between 600 and 800 years old. The tree suffered damage from a fire set in its hollow a couple of years ago, but survived, and like all of the ancient trees will continue to need care to keep it thriving.
The tree was nominated for the award by local MSP Monica Lennon, who describes it as: "the kind of tree you find in a fairy tale'.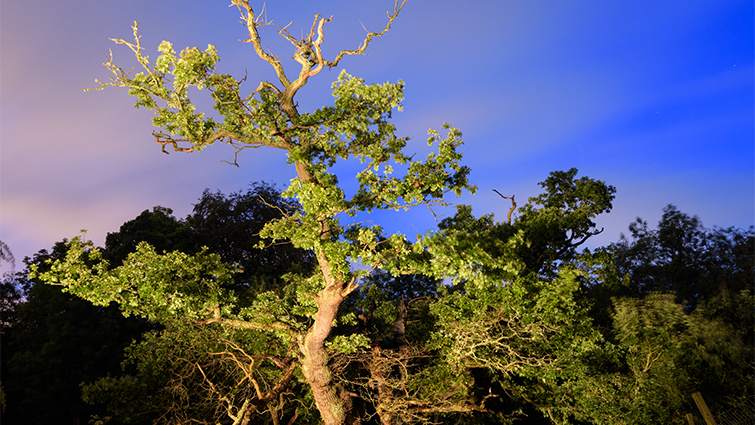 Added Councillor Ross: "This is an ancient and much loved oak which will have played a part in so many lives. Despite a pretty terrible fire a number of years ago, it lives on. My understanding is that the award prize would contribute to its upkeep as well as create a chance for local people to share their memories, allowing these to be preserved for generations to come. I've cast my vote, and I hope the many who named Chatelherault its 'much loved' park, do so too."
The top tree in Scotland wins a £1,000 care package towards its upkeep and will be honoured at a ceremony in the Scottish Parliament, where a trophy will be presented.
You can vote for the Cadzow oak on the woodland trust website until September 27.