Latest News
Meet the Lanarkshire Healthcare Experts - local practitioners star in video campaign
Published: Friday, 01 December 2017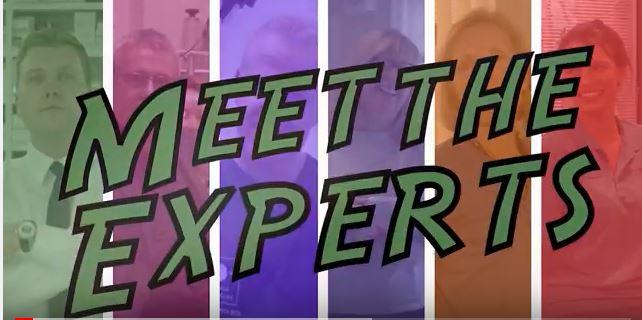 SANTA isn't the only one who will be getting some expert s-elf help this winter
A new campaign from NHS Lanarkshire is encouraging people to visit their local health care experts for advice and treatment - without the need to visit a GP or emergency department. The Meet the Expert campaign showcases all the services you can turn to when you're ill.
Dr Iain Wallace, NHS Lanarkshire's medical director said: "We can get ill over winter. Coughs, colds and stomach bugs can hit us hard and often this means added pressure in our GP surgeries and emergency departments.
"But a good way to avoid waiting for a GP appointment is to use one of the many community and self-referral services who can help with most minor illnesses and ailments. They can be found in town centres and high streets throughout Lanarkshire and are always happy to help".
The campaign features pharmacists, community opticians, dentists, the self-referral physiotherapy service and minor injuries units. Going directly to these services means that patients can see the right person, first time.
Iain added: "As well as the services on offer, most minor conditions can be self-managed. Lots of healthcare health care is available online through NHS Inform and along with a well-stocked medicine cabinet you could be able to manage most minor illnesses without having to leave your home".
The campaign kicks off on Tuesday 28 November with pharmacy and features a video starring Wishaw pharmacist Chris Johnstone.This will be followed by videos featuring Coatbridge and Cumbernauld community optician Frank Munro; Motherwell dentist David McIntyre, East Kilbride physiotherapist Kimberley McCall, Kello Hospital's (Biggar) minor injuries nurse Agnes Erskine and Motherwell resident Marie Jo McCrossan .
Chris said: "A lot of people don't realise how easy it is to get treatment at your pharmacy. You don't need an appointment and we can offer advice – and treatment - for a range of conditions. You should always check to see if you qualify for the minor ailments service which means you can get a range of over-the-counter medicines for free. It's always worth coming to us for advice first as we may be able to save you a trip to your GP or A&E".
Frank said: "A lot of people don't realise your local optician can help with eye problems – we can do a lot more than offer you an eye test. It's always worth coming to us for advice first as we may be able to save you a trip to your GP or A&E".
Kimberley said: "We have a lot of information available on NHS Inform to help people manage any joint or muscle problems they have – like sore backs, necks and shoulders. Patients can also contact the MSK helpline for advice and if necessary they can be referred for an appointment – all without having to leave the house or see a GP".
Marie Jo McCrossan said: "Most of the coughs, colds and stomach bugs we get can be treated at home. NHS Inform has a wealth of information at your fingertips and the NHS Lanarkshire website has some great advice on what you should have in your medicine cabinet to get you through most of your common illnesses.
"It's good to know who turn to when you're ill but it's even better to know that sometimes the best person is you!"
Look out for your local health expert on Facebook and You Tube or visit nhslanarkshire.org,uk/services/know-who-to-turn-to for more information.