Latest News
Report hghlights significant improvements to Multiple Sclerosis support and care
Published: Friday, 20 September 2019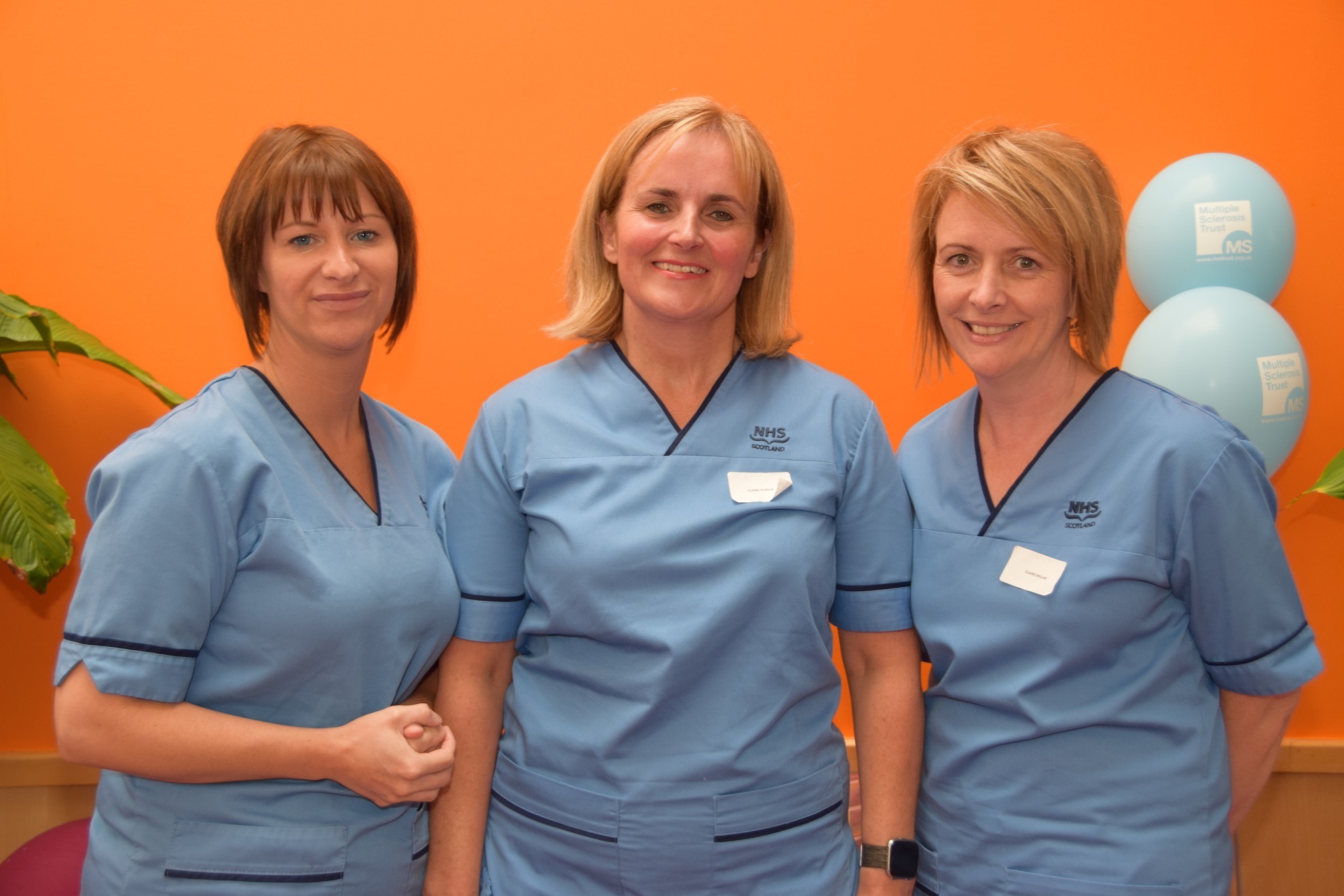 Lanarkshire's MS Specialist Nurses, Julie Wilkie, Claire Purdie (part time Neurology Nurse) and Claire Millar
People living with Multiple Sclerosis (MS) in Lanarkshire are benefitting from improved support and care.
A new report, published by the MS Trust and NHS Lanarkshire, has revealed significant improvements in the quality of care and support given to people with MS in Lanarkshire over the past 18 months. The Lanarkshire MS nurse service, hosted by South Lanarkshire Health and Social Care Partnership, is a member of the MS Trust's pioneering MS Specialist Nurse Programme. The report summarises some of the key achievements and learnings from the programme period, September 2017 – March 2019, as well as the impact on experience of care. It highlights success stories across the service, ranging from more home visits and virtual clinics, longer appointments and better links with other health professionals, to increased trust and confidence in the MS nurses.

Gill Hall, a patient of the service, said: "The support of the Lanarkshire MS nurse service has been excellent. As well as helping with practicalities and clinical support they have really reinforced my fierce belief that MS shouldn't limit my outlook. I live with MS – I won't be ruled by it.
"It has been a challenge, however, and it's been a comfort to know there are people out there who care and know the effects this can have on your life."

Two years ago NHS Lanarkshire announced that it had recruited two new MS specialist nurses, plus a part-time neurology nurse, to support the 1,200 people living with MS in Lanarkshire. The new nurses were recruited with the assistance of the MS Trust.
As part of its nationwide Specialist Nurse Programme, the MS Trust part-funded one of the nurses for 18 months and have been supporting the whole team to make even more of a difference for people affected by MS in Lanarkshire.
The report concludes that the MS nurse service is now reaching more people with MS in Lanarkshire and providing more accessible, responsive and holistic care. These improvements have contributed to fewer hospitals admissions and ambulatory care required for people with MS, saving the NHS approximately £120,000 over the course of the programme.

Maria Docherty, Nurse Director of South Lanarkshire Health and Social Care Partnership, said: "Our relationship and links with the MS Trust has helped us really develop person-centred expertise that's vital to supporting people with MS. The nurses can help patients adjust to diagnosis, consider complicated treatment options, manage a wide range of symptoms and learn to live well with an unpredictable, often debilitating, condition. This report also exemplifies the commitment of our committed and caring staff."
Megan Roberts, Health Professionals Programme Manager at the MS Trust, commented: "We are delighted to see how far the MS service in Lanarkshire has come in the past 18 months and how this has impacted so positively on the patient experience.
"The MS Trust Specialist Nurse Programme was established to ensure people don't have to manage MS alone, and it's fantastic that the MS specialist nurses are connecting people to the service.
"We are looking forward to seeing how the service continues to improve and flourish in the years to come, supporting even more people with MS and their families in Lanarkshire."

The full report on the NHS Lanarkshire MS nurse service can be found at: https://bit.ly/2kQT4tA

Find out more about the MS Trust Specialist Nurse Programme at: https://www.mstrust.org.uk/specialist-nurse-programme.

ABOUT MULTIPLE SCLEROSIS
Multiple sclerosis is a condition that affects the nerves in the brain and spinal cord. It is a lifelong condition, usually diagnosed in people in their 20s and 30s, and can cause a wide variety of symptoms, including eyesight problems, fatigue, balance problems, altered sensations, pain and cognitive issues. Everyone's MS is different so no two people will experience the same range and severity of symptoms, even if they are closely related. Around 110,000 people in the UK live with MS and it affects around three times as many women as men. MS is the most common condition of the central nervous system affecting young adults. There is a wide range of disease modifying therapies, but there is currently no cure.

CASE STUDY
Gill Hall a bank manager from Cambuslang was diagnosed with Multiple Sclerosis in July 2014 at the age of 43. Now 48 – the mum-of-one says she's been steeled on her journey by the support of the Lanarkshire MS nurse service.
"I'd initially experienced vision problems and in particular, I was finding it very difficult to read the computer screen all of a sudden. The diagnosis followed an MRI scan. It was all pretty rapid. From being healthy, suddenly I was getting used to the fact I had MS. That left me facing a huge psychological hurdle." Mum-of-one Gill – who specialises in developing Digital solutions to meet consumer demand for 24/7 banking – was initially off work for six months. Today, however, she continues to lead a busy work and home life, whilst living with symptoms including fatigue, pain and unpredictable sensations. But Gill explains how a positive mental approach has been crucial.

"I've taken good care of my diet and embarked on regular exercise. I have completed a 10k with friends. I still have a bucket list I'm determined to fulfil and I'm incredibly lucky to be surrounded by a supportive and loving family. The support of the Lanarkshire MS nurse service has also been excellent. As well as helping with practicalities and clinical support they have really reinforced my fierce belief that MS shouldn't limit my outlook. I live with MS – I won't be ruled by it. The nurses have been especially brilliant in helping me explain MS to my daughter, Nina, who's now 10. Keeping things hidden can be a great a strain. The team have provided me with lots of information in terms of how to talk to Nina including a book, written for children. For children Multiple Sclerosis is hard to say and spell, let alone understand, so the assistance with making things clear been a vital support. It has been a challenge, however, and it's been a comfort to know there are people out there who care and know the effects this can have on your life."