Lanark Loch festive fun run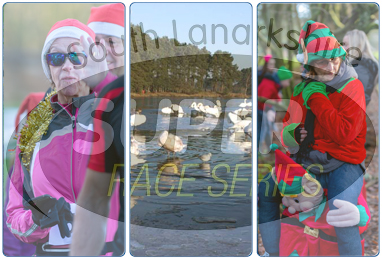 Join us for our second Santa dash around Lanark Loch on Sunday 5 December!
The event is geared towards all ages and abilities. The route is a simple circuit of the loch…a nice, very flat route. You can choose to go around as many times as you wish.
We welcome runners, joggers and walkers…all ages and pets too!
Entry fees include a Santa costume (details below), a participation medal and a festive snack.
We start at the top car park of Lanark Loch at 10:30am.
To help keep numbers at a comfortable level, we will set off in waves (runners starting the wave first, with walkers to the rear).
After completing your laps you'll return to the top car park where you collect your medal and enjoy a festive beverage or snack.
A perfect kick start to the festive season!
To help keep queuing to a minimum, costume collection will be available at Lanark Lifestyles for those who can make it before the day. Details for this will be published on our Facebook event page. For those who are travelling from further afield, you will be able to collect from 10:30am at the gazebo in the top car park at Lanark Loch.
Schedule
Costume pick up available from 10:30am
Wave One warm up 11:05am
Wave One sets off 11:15am
Wave Two warm up 11:20am
Wave Two sets off 11:30am
Additional waves will be added as required.
Costume Information
16yrs+: jacket, trousers, hat, beard and belt (one size fits all)
Youths (9-15yrs): jacket, trousers, hat and belt
Juniors (5-8yrs): velcro fastening jacket, trousers and hat
Tots (under 5's): santa hat
Entry Cost
16yrs+: £12.00
Youths (9-15yrs): £7.00
Juniors (5-8yrs): £7.00
Tots (under 5's): £3.50
How to book
Bookings open from 9:00am on 1 October 2021 and close at 8:00pm on Wednesday 1 December.
You can also book in person at Lanark Lifestyles, Thomas Taylor Ave, Lanark, ML11 7DG or call us on 01555 666800.
Car parking
Limited car parking spaces will be available within the loch area, with the main event hub using the top car park. Walking to the event is advisable. For those who are travelling, the racecourse or the auction market have plenty of spaces. There will be blue badge parking at the top car park. More information on this will be published just before the event.
Toilet and changing facilities
There are no dedicated changing areas. The toilets at the kiosk and portable toilets will be available.
What to bring
Comfortable clothing to wear underneath your Santa Suit, sensible running/walking footwear and gloves.
Bag storage
Storage tags will be available from registration on the day.
Photography
There will be an official race photographer at the event, these pictures will be available on the event website, SLLC Facebook and twitter pages.
Looking for more information?
For more information please drop us an email and we will get back to you.
Share this page