ACE children's activities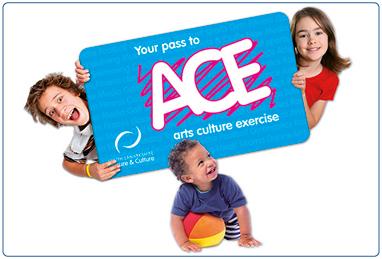 Our ACE programme provides a wide range of Arts, Culture and Exercise classes and courses for children under 16 years, helping them to be active, develop their interests and make new friends. Tiny ACE classes provide activities for children from birth to preschool age that encourage your child to explore and develop their creativity, speech, social and motor skills.
ACE / Tiny ACE classes and courses are available on a pay-as-you-go basis or by taking out ACE / Tiny ACE membership.
Check the ACE Menu for descriptions of class activities and information on additional activities included in ACE membership.
Timetables
Our main activities programme is provided during school terms, and there is automatic re-enrolment at the end of a term for the next term's course. Additional programmes are provided during the Spring Break and Summer school holidays. Information on our programme for the new school year, 2022-2023, is available on the ACE timetables page.
Term dates 2022-2023
Term 1: Monday 15 Aug 2022 - Sunday 16 October 2022
Auto re-enrolment for T2 Monday 3 - Sunday 16 October 2022
Term 2: Monday 24 October 2022 - Sunday 18 December 2022
Auto re-enrolment for T3 Monday 5 - Sunday 18 December 2022
Term 3: Monday 9 January 2023 - Sunday 2 April 2023
Auto re-enrolment for T4 Monday 20 March - Sunday 2 April 2023
Spring break: Monday 3 April 2023 - Sunday 16 April 2023
Term 4: Monday 17 April 2023 - Sunday 25 June 2023
Auto re-enrolment for T1 2023/24, Monday 12 - Sunday 25 June 2023
Summer: Monday 3 July 2023 - Sunday 13 August 2023
How to book
You can book online or contact your local leisure centre, cultural venue or library.
Membership information
Our ACE / Tiny ACE membership will give your child unlimited participation to our classes every week.
You can join online or contact your local leisure centre, cultural venue or library.
Tiny ACE membership * (preschool children)
Only £17.70 per month.**
ACE membership * (under 16 years of age)
Only £26.75 per month.**
A concession of up to 50% is available to Leisure for All cardholders.
A 20% discount is offered for the siblings of one full paying child or for a child that is already a swimming lesson member. After viewing our programme and liking what you see your child can become a Tiny ACE or an ACE member.
* All classes up to 2 hours included
** All prices subject to increase from April 2023
South Lanarkshire Leisure and Culture Limited: Children's Activities - Booking Terms and Conditions
All courses, classes and sessions must be pre-booked and paid in full (unless stated otherwise) prior to the commencement of each course, class or session.
Bookings will be taken on a 'first come, first served' basis (unless stated otherwise).
Places booked on an ACE Membership and subsequently not utilised, will incur the appropriate charge.
Holders of a current South Lanarkshire Leisure and Culture (SLLC) Gold Card are permitted to use their card on courses relevant to their sport, for a maximum of two courses only. Additional courses may be pre-booked and paid for at the advertised rates. Alternatively, a Gold Card holder may use their card for free access to additional courses on the day of each session, should spaces be available. Further information on the Gold Card can be found on the website or by calling 01698 476262.
Reduced rates are available for holders of a current SLLC 'Leisure for all' concession card. Please ensure your concession card is valid to beyond the start date of your chosen activity at the time of booking. Further information on eligibility can be found on the website or by calling 01698 476262.
SLLC cannot be held responsible for injury or loss of belongings sustained whilst participating in any course or session.
SLLC reserve the right to cancel, alter or relocate sessions without notice and will run subject to minimum numbers. In the event of an activity being cancelled we will take reasonable steps to notify participants. SLLC will not be held responsible for any travel, accommodation or other ancillary costs incurred by the participant.
Participants agree to abide by SLLC's Management Rules at all times. These are available to customers on request and / or are displayed within facilities and venues.
The unauthorised use of photographic and / or recording equipment is strictly prohibited.
Payments cannot be refunded except in circumstances where the course, class or session has been cancelled.
Cancellation or non-attendance
If you fail to give four hours notice of cancellation or do not turn up for a pre-booked ACE class, you will not receive a refund for the lost booking. ACE members will be charged a £2.00 cancellation fee.
Activity suitability
To ensure your child or children have an enjoyable experience in their ACE class or activity they may only attend classes which are at an appropriate level for their age and skill or ability level.
Where participation is dependent on skill or ability levels, SLLC staff will provide advice and guidance on the most suitable class or activity for your child or children.
Fair use rules
Participants are not permitted to attend consecutive classes in the same activity, for example attend two consecutive gymnastic classes. However they are permitted to attend consecutive classes in different activities, for example attend a guitar class followed by a drama class.
To ensure children receive the best experience from their ACE membership SLLC encourages parents to, where possible, not book children into multiple activities in the one day.
Medical information
Please provide details of any medical conditions that we would need to be aware of. Providing this information enables SLLC to provide the best service and / or adapt classes to support the needs of the child or children.
Frequently asked questions
How to book
All sessions must be booked and paid in advance. No walk-in bookings will be taken. Bookings can be made online.
If you have an online account but have forgotten your membership ID, this is different to the number on your card, please email us.
If you have forgotten your password, just click "forgot" link to reset.
If you have never had an online account before you can set up a new account under your child's name. Each child will have their own account.
Do I need to rebook for next Term?
If you are booked into the current Term we will automatically rebook you into next Term.
Are there any special requirements with clothing for leisure classes?
Gym clothes and shoes for all activities but please note most activities will be outdoors, so come prepared for rain (rain jacket) or sun (sun hat and sun cream applied before arrival).
Will refreshments be supplied?
No but children should bring bottled water or diluted juice for breaks during leisure classes. Please clearly mark with child's name to avoid any confusion.
Drinks are not allowed in arts classes (other than Dance classes).
Can I join in the session and support my three year old as it's his/her first class?
Unfortunately not, due to the health and safety measures being introduced within each class. We cannot accommodate any additional people outside of our coaching team and the participants.
I no longer want to be a member, what do I do?
We are sorry to see you go, if we can help in any way, let us know by emailing Cancellations.
Share this page