Making South Lanarkshire 'a great place to grow older'
Published: Wednesday 1 February 2023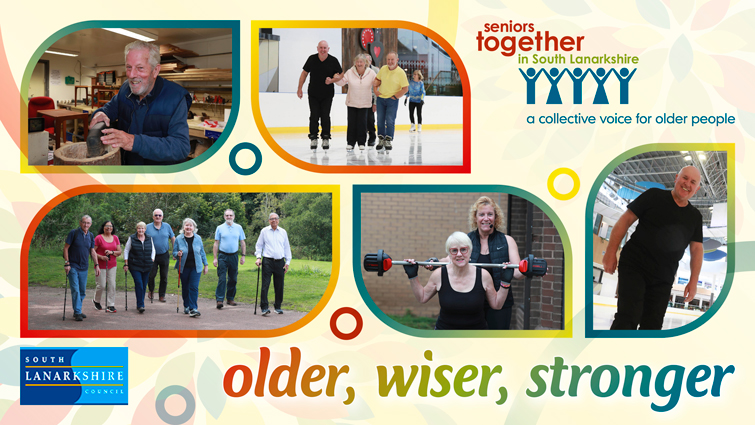 South Lanarkshire is set to become the first Scottish local authority to become an Age Friendly Community.
The announcement comes after the council agreed at today's Executive Committee to formally put in writing a programme to achieve this after being updated on the work already being undertaken by Seniors Together.
Catriona Mason, the chair of Seniors Together, said: "We are absolutely delighted that the council has agreed to become an Age Friendly Community.
"This will be the first local authority in Scotland to join this growing UK network of communities that involve all partners and people working together to make our community a great place to grow older."
Seniors Together is now liaising with the Centre for Ageing Better and the Scottish Older People's Assembly (SOPA) to develop their knowledge and understanding of the process required to develop an age friendly South Lanarkshire.
Councillor Lesley McDonald, the chair of the council's Finance and Corporate Resources, said: "Ageism is the most prevalent form of discrimination in the UK so the development of an Age Friendly Community will mean that the council and its partners will work with older people rather than for them to design services and facilities that best suits their needs and aspirations.
"I am therefore delighted that the committee agreed to develop plans to ensure that everyone can actively participate in a wide range of activities and be treated with respect, regardless of their age."
The committee approved the following recommendations:
A formal written commitment to the World Health Organisation (WHO) from the Leader of the Council to make South Lanarkshire an Age-Friendly Community – 'a great place to grow older'
The council works with interested partners to develop an Age Friendly action plan
The voice of older people is represented in the Community Planning Partnership, via Seniors Together
Setting up such a community will now be progressed with a representative from Seniors Together sitting on the Community Planning Partnership Board as a voice for older people. The Community Planning Partnership has also been highlighted as best placed to co-ordinate and drive forward the delivery of the age friendly community.
The move comes after lockdown revealed how many of the life adjustments that had to made then highlighted how such restrictions created difficulties and an 'age-hostile' environment.
Creating an Age Friendly Community will include ideas such as 'liveable neighbourhoods' – limiting traffic and creating more spaces for neighbours to sit and children to play, and 'fifteen-minute neighbourhoods' – ensuring residents can access daily needs within a safe short walk, in line with WHO's identified features of age-friendly cities.
WHO Age-friendly Cities Framework - Age-Friendly World