Brave Bob celebrates turning 100
Published: Wednesday 24 May 2023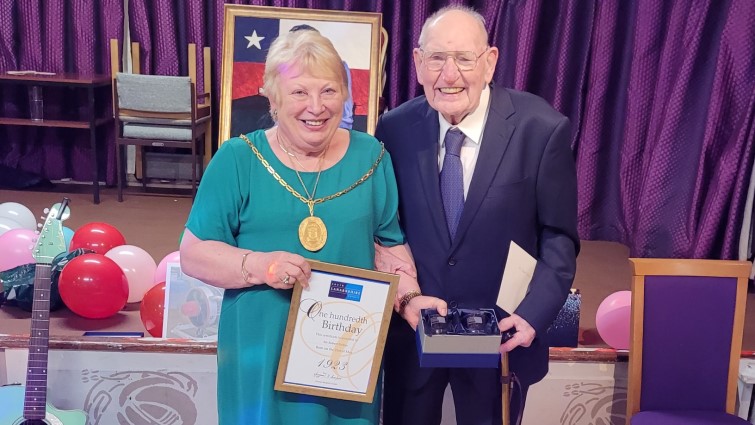 A man who defied the Chilean dictator Pinochet has celebrated his 100th birthday.
Bob Fulton, who worked at Rolls Royce in East Kilbride, was one of four men who refused to repair and return the Chilean jet engines Pinochet's air force used to bomb the capital Santiago.
The men knew they were putting their jobs on the line back in 1974 but also felt they had to take a stand.
The story of their bravery was told in a film, Nae Pasaran, by Chilean Film Director Felipe Bustos Sierra which won a Scottish BAFTA.
Bob, a resident at Bosfield Sheltered Housing Complex in East Kilbride, said: "Immediately after we refused to work on the engines I did wonder if security would be coming to escort me out the door.
"Looking back, I think the actions we took were absolutely right.
"My beliefs as a Christian and a trade unionist justified any action which might help prevent harm to fellow workers in Chile and to send a message of support to them from across the world.
"I would like to think that not just trade unionists but all fair-minded people would think we did the right thing.
"I think trade union law might make similar action more difficult today."
Bob added: "I am proud that the actions at Rolls-Royce in East Kilbride have become a small part of the town's history."
Bob was originally from Glasgow and worked at Rolls Royce in Hillington before moving to the East Kilbride site.
He was called up in 1943 and after the war married Lottie in 1948. They had a daughter Lynne, born in 1950, and son Roy followed in 1953.
Bob and Lottie were founder members of Westwood Parish Church in the town, with Bob taking an active role as an Elder, Sunday School Superintendent and Session Clerk.
Following Bob's retiral from Rolls Royce in 1988, he and Lottie found a second life at their static caravan in Port Patrick and started a new past time of green bowling.
Since Lottie's passing Bob has continued to bowl at Port Patrick and at Brancumhall in East Kilbride.
Bob was presented with a card, birthday certificate and whisky glasses by South Lanarkshire Provost Margaret Cooper.
Provost Cooper said: "It was a real privilege to meet Bob and learn about his and his colleagues incredibly brave stance against Pinochet.
"It's a remarkable story and just adds to the rich and full life Bob has enjoyed. Many happy returns Bob!"