Exhibition tells story of Lanarkshire's own showman
Published: Friday 26 May 2023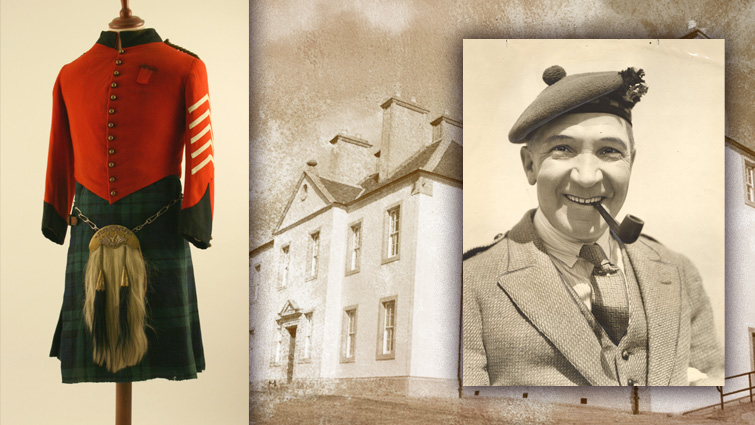 Scotland's first international entertainer is to be celebrated in a unique exhibition in Hamilton.
Low Parks Museum in the town's Muir Street, will host National Treasure: South Lanarkshire's Sir Harry Lauder Collection from 10 June through to February 2024.
Visitors will have free access to almost 600 items, relating to the extraordinary life and career of a local lad whose unique stage image and performances brought world fame. Having recently gained the Recognition award from Museums Galleries Scotland, the collection is widely considered the largest in public ownership worldwide.
Born in Portobello in 1870, Harry Lauder moved with his family to Hamilton aged 14 where he worked as a coalminer. However, he was also performing to audiences locally as a comic singer, and it wasn't long until his reputation began to grow beyond Lanarkshire.
A clever self-publicist he set out to be 'memorable and marketable', building an image - contentious perhaps today - as the stereotypical 'canny Scotsman'. His stage characters and songs made him the highest-paid entertainer in Music Hall history earning $1,000 a night by 1911; a staggering £25,000 in today's money. He subsequently became the first British artist to sell one million records.
Chief Executive of South Lanarkshire Leisure and Culture Kay Morrison explained: "Sir Harry Lauder inspired many artists and was celebrated by Royalty, US presidents and British Prime Ministers alike. It would be hard, even in modern times, to point to a more celebrated Lanarkshire performer and indeed one who had such an impact not only in his own era but who continues to do so today.
"Now, after years of painstaking behind-the-scenes development work and research, funded by Museums Galleries Scotland, this collection deservedly gains its place as part of Scotland's cultural heritage. Our Museums Service has curated a colourful and theatrical exhibition, showcasing Harry's life and work, and his influence at the birth of the modern age of communication.
"Through stage costumes, his trademark twisty walking sticks, handwritten letters and lyrics, music, photographs, film and archives, it explores his characters and songs, his world tours, his family and friends, allowing us a valuable insight beyond fame to the family man.
"It will, I have no doubt, appeal to old and young alike in its colourful presentation and programme of activities, celebrating 'a national treasure'."
Sir Harry Lauder returned to Lanarkshire to settle at Lauder Ha', his custom-built home in Strathaven from 1934 until his death in 1950.
Open from 10th June until end of February 2024, entry to the exhibition is free.
*The stage costume collection and much of the archive were loaned to Hamilton Burgh Museum when it opened in 1967 and then gifted to the Museums Service by the family of Sir Harry Lauder in 2010.