Food and drink prizes up for grabs in free competition
Published: Wednesday 3 November 2021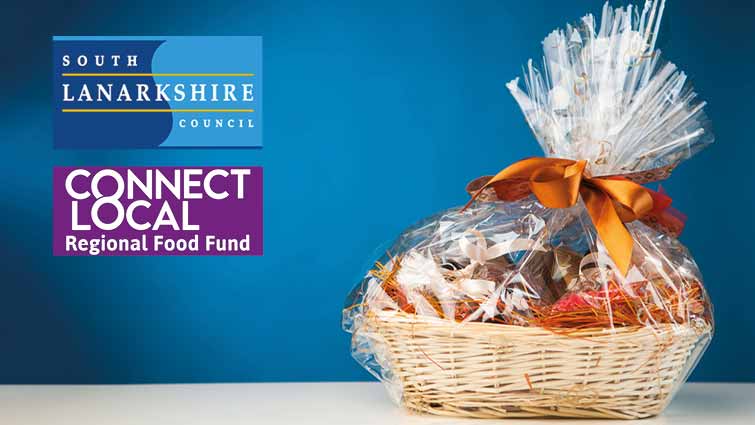 Local food and drink producers across South Lanarkshire are being celebrated by the council.
And residents have the chance to sample a selection of some of the tasty treats they have to offer by entering our FREE competition – just in time for Christmas.
With a value of more than £600, the hamper showcases some of the very best food and drink available right on your doorstep. Funding came from SAC Consulting (Connect Local Regional Food Fund) and the council for the hamper.
All you need to do is answer a simple question to be in with a chance of the prize – please note the closing date for entries is Friday, 3 December. Anyone taking part must be over the age of 18.
Chair of South Lanarkshire Council's Community and Enterprise Resources Committee, Councillor John Anderson, said: "We are proud that so many great food and drink producers are based in South Lanarkshire.
"Many of them are already well known to the public, and of course they have spent many years building up a loyal customer base in the local area and beyond.
"But we also want to give other producers, who you may not be as aware of, the opportunity to showcase the work they are putting in to provide you with a wide choice of food and drink.
"Good luck to everyone who takes part – and please help support the local economy by buying from as many of the local businesses as possible and supporting them on their websites or social media business pages."
The businesses who have contributed to the competition are the following:
Biggar Gin – a family business owned by two brothers offering a selection of delicious gins, combining an exciting mix of tradition and innovation. They not only share some tasty cocktails using Biggar Gin on their website, but they also include a recipe for a Christmas Salmon dish including their gin too!
Damn Delicious – top-quality butchery and farm shop offering high quality, delicious produce, available for delivery direct to your door. They are very focused on using unique and natural farming methods to ensure that their meat is of the finest quality and always tastes absolutely delicious, hence the company name!
Drink of the Land – offer super-tasty, non-alcoholic drinks with natural ingredients from regions around the world. This website offers some cocktail recipes that include this non-alcoholic beverage as a complementary addition.
El Artissano - This company is located in Biggar and they are focused on selling incredible products including Artisan Dulce de Leche and Artisan Chimichurri Salsa – their products would make an ideal gift, proving a delicious addition to savoury meals and snacks and also a sweet complement.
Harris and Ollies – a newly refurbished bar, restaurant, function hall and beer garden in Lesmahagow, offering a variety of inspiring, flavoursome food throughout the days and evenings, along with a great range of events. This business is delighted to cater for customer requests whenever feasible and they offer themed evenings and special deals for children.
Hillhead of Covington – a great dairy farm where they care for their cows and calves on the banks of the River Clyde. Offering freshly dispensed whole milk and a great range of flavours of their tasty milkshakes, they invest a lot of time and effort to produce flavours that will cater for a wide range of tastes. They sell through a couple of local outlets, as detailed on their Facebook page. Customers are encouraged to return their glass bottles to get refilled, to do their bit to help reduce waste.
Millers Larder – dedicated artisan producers of top-quality, handmade chutneys, pickles and an amazing, award winning Perfyit Piccalilli – a great accompaniment to any meal or snack. Sold in a range of outlets, with more added regularly – some of these shops are listed on the website.
McLean's Gin – this team offers a range of delectable, bespoke gins, carefully produced at their purpose-built gin lab just outside Strathaven. The couple behind this business created a very special gin called, Something Blue, to commemorate their marriage on 2nd June 2018. As stated on their website, "By popular demand - coupled with multiple award nominations - Something Blue returns as a permanent addition to the diverse range of spirits produced by McLean's Gin."
Mushtaqs - Mushtaqs is a multi-award winning take-away restaurant located in Hamilton and is four times Chef Of The Year winner. This company is passionate about serving customers the tastiest, most authentic quality Indian food using natural ingredients and they make fresh, natural curries each day, offering top quality.
Old Mother Hunt – just awarded, 'Best Start-up in Britain' at the Journal Magazine Awards, this business was set up by a couple who had to diversify their life plan after the shattering effects of the pandemic. After a long struggle with jobs drying up, the couple decided to take some control and focus on setting up their own business. Fast forward to today and this now well-established business is run by this dedicated team, who are passionate about producing small-batch, super-tasty, craft rum made from scratch at their distillery in Strathaven. Their Winter Spiced rum is back on sale in time for the run up to Christmas.
Sandra's Kitchen – ideally located by the Hamilton Bus and Central Train Station and open from 7am Mondays to Fridays and 8am on Saturdays, this business consists of a café and deli and sells a range of delicious food, cakes and snacks, including a great range of hot food. They offer a take-away service and have delivery options.
Shirley's Kitchen Garden – a top-quality fruit and vegetable shop that grows and sells fresh, seasonal produce at home on the family farm near Biggar – this has been described as a treasure trove of super fresh and tasty discoveries! You can pre-order and they sell veg boxes which can include some seasonal surprises too. They also provide this fresh produce to local accommodation businesses.
The Heron Farm Shop & Kitchen – a fantastic farm shop in Strathaven where their ethos is 'field to fork – food provenance, seasonality and freshness'. You can enjoy a mouth-watering food and drink selection for breakfast and lunch and can also enjoy a relaxing afternoon tea/coffee and cakes. They also have a great selection of top-quality, local and Scottish produce in their shop. Free parking is right outside their premises with a large car parking area.
The Orchard – based on the High Street in Biggar, this fantastic shop offers a wide range of fresh fruit and vegetables, fresh fish and fine foods. Investing so much effort has earned them a range of well-deserved awards for their Biggar Flavour scrumptious baking. In September they won a further 5 Great Taste awards for their shortbread, oatcakes and crackers. They have just heard that their Completely Cheesy Oatcakes won the Savoury Biscuit category in The Great British Food Awards, judged by Michel Roux Jr.
Tunnock's – world-famous producers of delightful Caramel Wafers, Teacakes and many more sweet treats. They sell a huge range of accessories, mugs, clothing and everything related to Teacakes and Caramel Wafers through their website.
Woodfired Guys – this business specialises in catering for a wide range of events, from private garden parties to weddings and everything in between. Providing perfect hand-stretched Neapolitan pizzas, risen by a seasoned oak fire and also a range of delicious hot dogs including wild boar, there is something for everyone. They have invested an incredible amount of time and care in ensuring they use top-quality ingredients and will do their best to cater for a range of dietary requirements too.
Each business has offered either vouchers or products as part of the competition.
The competition is open to anyone aged 18 and over – this is a fantastic prize, so good luck!