Peatland team will build on Langlands Moss achievements
Published: Thursday 3 February 2022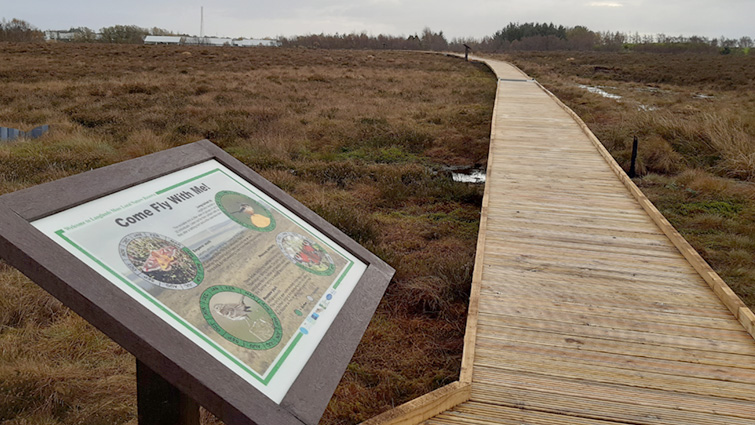 The Clyde region's peatlands are a vital natural resource and habitat, and South Lanarkshire is to help lead the way in protecting them.
The council, supported by Glasgow City Region, is to appoint two full-time Peatland Officers who will take a lead in protecting and restoring such environments. The roles are being funded for two years by NatureScot Peatland Action Fund and is part of the GCV Green Network.
The council's Climate Change and Sustainability Committee agreed South Lanarkshire Council hosting the two posts after hearing a report on how they will support development of an extensive programme of peatland restoration projects across the Glasgow City Region. They will also support a new Peatland Action initiative in development with NatureScot.
Chair of the Committee Councillor John Ross said: "Degraded peatlands emit carbon, however, when brought into positive management they can lock up large amounts of carbon in relatively short timescales. Additionally, functioning peatlands can deliver natural flood management to help deal with increased rainfall and the impact that has on downstream flooding.
"Historically we have often only thought about what we can take out of peatlands for fuel or fertiliser, or how we can put them to other uses such as forestry. Now we recognise how important they are to us as a fantastically diverse habitat and as a globally important carbon store."
Recent analysis on where to target peatland restoration to improve habitat for wildlife identified 85 locations across the Glasgow City Region, 52 of which are in South Lanarkshire.
Peatland is expected to make a key contribution to the City Region's Net Zero target to support action to limit Climate Change
Langlands Moss – peatland restoration in action
South Lanarkshire has already taken significant steps towards peatland restoration. The Langlands Moss Local Nature Reserve in East Kilbride has recently undergone a dramatic transformation as part of a £202,000 peatland restoration project through Scottish Natural Heritage's Peatland Action Fund, the Scottish Government's commitment to restoring peatlands.
Over 20 hectares of commercially planted conifer trees were removed from the reserve after a feasibility survey in 2018 found significant levels of peat under the planted trees. Removing the trees will allow the regeneration of the natural peat vegetation and native wet woodland.
It is estimated that Langlands Moss holds over 132,500 tonnes of stored carbon: this equates to nearly 500,000 tonnes of carbon dioxide, which is three times the Council's entire annual emissions. Restoring the bog will support the Council's commitment to combating climate change. It will also lead to a much more attractive and accessible recreational facility for the people of East Kilbride.
During lockdown more and more people have been walking around the Langlands Moss reserve.
Towards the end of 2021, working closely with the Friends of Langlands Moss volunteer group, the council was able to restore and reopen the boardwalk and carry out path improvements delivering better, more accessible routes for all.
As the Langlands Moss peatland restoration further restores the natural balance of the area it is planned the path network will be further extended to improve the access links to neighbouring communities. The Langlands Moss reserve has doubled in size to extend protection to peatland reserves found under the felled conifer trees.