Could you be a short breaks carer
Published: Friday 13 May 2022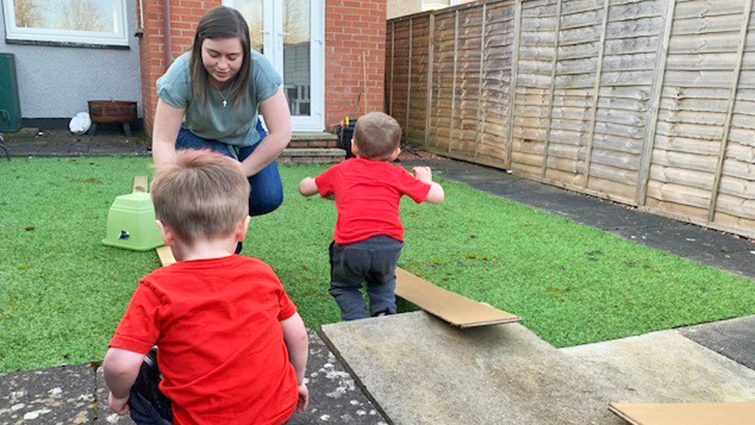 In this special series, we take a look at how providing short breaks can be a lifeline for vulnerable families.
And the rewards are not only huge for the families but for those providing the care.
Caring for young people has been a real part of Caroline Findlay's life for many years, as a volunteer and now as a short breaks carer.
She originally got into caring as a volunteer with Covey befriending which has been helping children, young people and their families across Lanarkshire develop strong and trusting relationships through its befriending and mentoring service.
Caroline said: "I used to volunteer once a week. Building a relationship with an individual child and taking them on weekly outings was a great start to what has now become my career.
"It was fantastic to see just how much a young person can benefit from even a small amount of friendship and support."
She then looked into the possibilities of full time fostering but decided that short breaks would give her more security as she could still keep her permanent job as an Early Years nursery manager for North Lanarkshire Council.
Short Breaks is a vital service for families needing planned breaks. This might be grandparents who are the main carers for grandchildren, parents caring for children with additional support needs, or young parents with no family support. This help can often be the key to keeping families together and preventing children from needing longer term care.
With that in mind Caroline went on the council's website and completed an enquiry form. It was as simple as that.
She said: "I was contacted by the short breaks team who discussed my experience and why I was interested in taking on the role. I then attended online training to learn more about short breaks and I have not looked back since."
Over the past year since Caroline became a short breaks carer she has really enjoyed being able to build up relationships, getting to know the children and their families.
"Watching the children become confident at my house has been a real privilege," Caroline explained. "They bring an energy and life to my home as we explore new activities together. Whether it is reading books or playing a variety of games, there is always something to look forward to every visit.
"However I also love getting out and about. Going on outings and trips and encouraging the children to pursue their own interests and create memories and positive experiences that I hope will last them, and me, a lifetime."
If you think you could help vulnerable families by offering a short break then we are looking for more people to add to the dedicated carers who already provide this highly rewarding service, not just for the children and their families, but the carers as well.
Soumen Sengupta, Director of Health and Social Care, said: "Anyone who thinks they could support a family should get in touch with us.
"It doesn't matter what your background is, if you have the warmth, time and commitment to care from a child, and you're the right person for the job, that's what matters to us and the children and families that you will be helping."
If you think you could be a short breaks carer like Caroline, please click on the link to find out more.