Golden couples invited to celebration event
Published: Tuesday 28 June 2022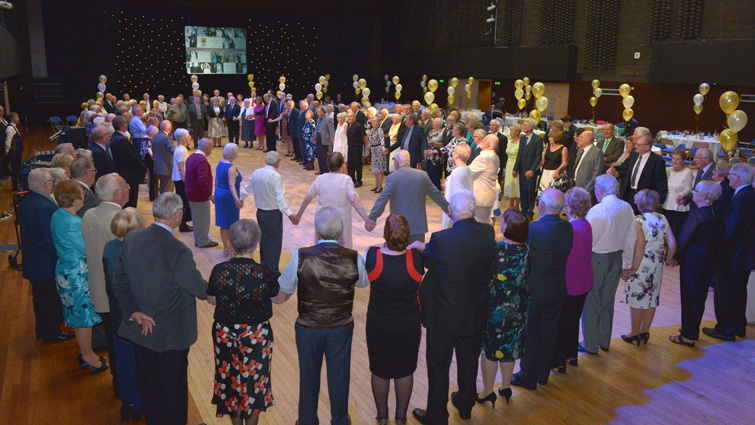 Do you, or someone you know, celebrate your Golden Wedding this year?
If so, then South Lanarkshire Council wants to hear from you.
The Provosts of South and North Lanarkshire Councils jointly host an annual celebration for couples who celebrate their Golden Wedding anniversary.
This year it will be hosted in South Lanarkshire Council's Banqueting Hall at council HQ in Hamilton, and couples are being asked to get in touch if they want to take part in the event.
It will take place on Wednesday 12 October (and possibly Thursday 13 October if needed). The deadline to submit a request to take part is Friday 12 August.
South Lanarkshire Provost Margaret Cooper said: "I hope as many couples as possible who celebrate their Golden Wedding this year get in touch with us.
"Also, if you are aware of anyone who was married in 1972, maybe your parents or grandparents, please encourage them to contact us.
"The happy couples will be able to enjoy musical hits from their wedding year, dancing, an afternoon tea and will be presented with a commemorative gift before having their photographs taken.
"It's always a really enjoyable occasion and I look forward to hearing how the couples met and the ups and downs of their married life together."
North Lanarkshire Provost Agnes Magowan said: "The Golden Weddings celebrations are a real highlight of the year and enjoyed by so many people from across Lanarkshire.
"Golden weddings are very special occasions and bring back so many happy memories for people and we'd encourage couples who were married in 1972 to get in touch with us and take part in these wonderful celebrations."
If you live in South Lanarkshire and celebrate your Golden Wedding in 2022 and would like to receive an invite, please contact Maureen Greenwood, South Lanarkshire Council, Members' Services, Floor 1, Almada Street, Hamilton ML3 0AA giving your name, address and contact telephone number. A copy of your Marriage Certificate will also be required.
If you wish any further information or clarification, please call 01698 454542 or contact us by email.
One of the most iconic films ever released first played to audiences in 1972 – The Godfather. Other hits of the silver screen included The Poseidon Adventure and The Way of the Dragon.
In the charts, Donny Osmond hit top spot with Puppy Love, the New Seekers were the first number one of 1972 with I'd Like to Teach the World to Sing and Alice Cooper's Schools Out was also top of the pops.
The Watergate scandal dominated news headlines for much of the year, as did the murder of 11 Israeli athletes at that year's Olympics.