Grant funding helps company reach new heights
Published: Friday 1 July 2022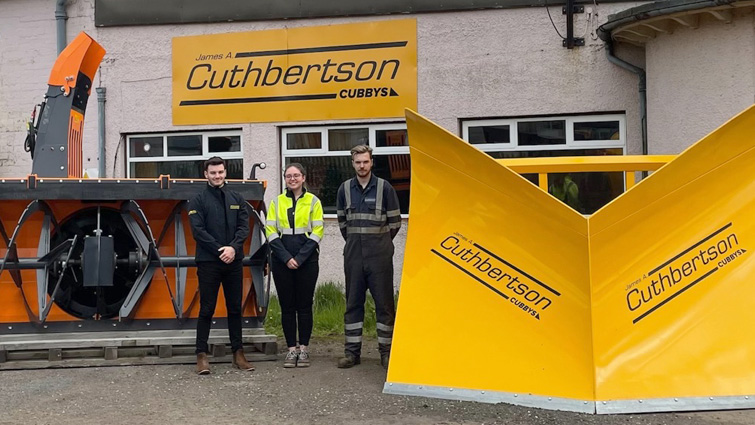 A council Business Support Grant has given a rural company a welcome lift to further develop its business.
James A. Cuthbertson Ltd, based in Biggar, has been in business for more than 75 years and is the sole Scottish designer and manufacturer of vehicle-mounted winter maintenance equipment and products, specifically, ploughs and gritting equipment.
When the company fell into difficulties a few years ago the 'Cubbys' brand was rescued from falling into administration when Denis Lavery, the owner of neighbouring firm Atlas, on the same industrial estate in Biggar, bought the company to ensure the survival of the renowned and historic brand which has been in existence since 1936.
Its new management team worked hard to rebuild the vitality of the company and additionally engaged with the council's Economic Development Team to help purchase specialist lifting equipment to boost workshop efficiency once their recovery was well on the way.
The team was involved throughout the early development stages of the capital equipment project and colleagues from Planning and Building Control as well as Business Gateway Lanarkshire were also on hand to provide additional 1-2-1 help to ensure everything went smoothly to provide the ideal outcome for the company.
And now, the new management team have managed to remain one of the largest employers in the local area, with 12 new employees and three apprentices being taken on from the local area following the rescue in 2019.
James Barr, Integrated Management Systems (IMS) Co-ordinator and Louise Neilands, Customer Service and Sales Advisor, joined the company following the take-over when it was in a drastically different position from where it is now.
James, the company's Integrated Management Systems Co-ordinator, said: "The Business Support Team were very helpful and guided us through every stage of the process of applying for the funding for the new crane we needed for the workshop.
"It is such an invaluable tool and will allow us to speed up many aspects of our processes including fitting our specialised equipment quickly and efficiently to the lorries that need converting and fitting."
And Louise Neilands, Customer Service and Sales Advisor, added: "We thought the funding process would take a long time with a range of conditions that would have to be met.
"But it couldn't have been simpler. We applied online in April and within eight weeks everything was completed and our new crane is now installed and operational."
The Business Support Team can help any type of company – whatever the line of work. Business principles remain the same and the council's experts are happy to tailor their advice according to the needs of each company.
Councillor Robert Brown, the Chair of the council's Community and Enterprise Resources Committee, is delighted that the Business Support Team was able to assist James A. Cuthbertson Ltd.
He said: "Huge opportunities exist for businesses to adapt and grow across South Lanarkshire.
"I am delighted that the council team have been able to assist this well-known local company to thrive once again and build on years of experience supplying essential specialist equipment to not just our own council but local authorities across Scotland and now the UK.
"Being able to tap into vital funding support has proved once more that a little specialist support at the right time can make all the difference to ensuring continued success for so many companies in our area."
For more information about our Business Support Team and the wide range of services they can provide please go to our Support for business pages or email business.support@southlanarkshire.gov.uk.South Lanarkshire Business Support Grant is the operational name for the South Lanarkshire element of Business Competitiveness Grant Support - Lanarkshire, which is part funded by the European Regional Development Fund (ERDF) and delivered and part funded by North and South Lanarkshire Councils.