Job Fairs to take place across South Lanarkshire
Published: Thursday 18 August 2022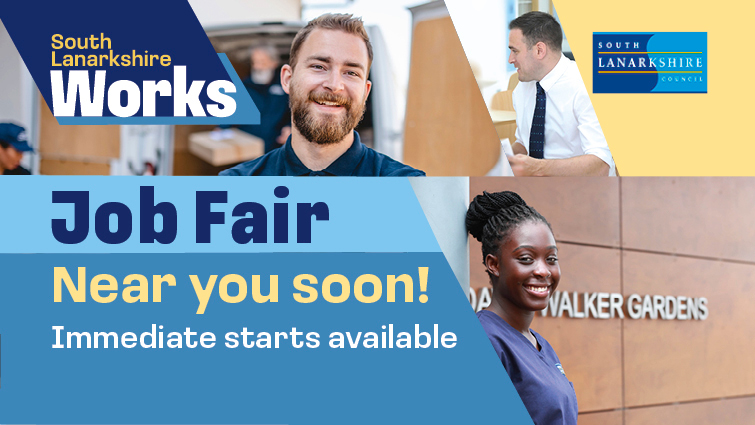 Do you want to work for South Lanarkshire Council?
Then why not come along to one of our Job Fairs that are taking place across the area in the next few days.
Our teams will be on hand to let people find out more about the opportunities and vacancies within the council.
Chair of the council's Finance and Corporate Resources Committee, Councillor Lesley McDonald, said: "There are of course many benefits to working for the council, and we have several vacancies across a number of resources.
"This means there is likely to be a job opportunity that appeals to you and may also be close and easy for you to get to.
"There is no need to pre-book, feel free to drop in at a time and location that suits you."
The Job Fairs take place at the following dates and locations:
Monday 22 August from 10am to 2pm; Cambuslang CTEC, 1-15 Main Street, Cambuslang, G72 7EX
Tuesday 23 August from 10am to 2pm; Rutherglen Town Hall, 139 Main Street, Rutherglen, G73 2JJ
Wednesday 24 August from 10am to 2pm; Lanark Memorial Hall, 13 St Leonard Street, Lanark, ML11 7AB
Thursday 25 August from 10am to 2pm; Hamilton Town House, 102 Cadzow Street, Hamilton, ML3 6HH
Tuesday 30 August from 10am to 2pm; East Kilbride Universal Connections, Brouster Hill, East Kilbride, G74 1AF
Further information is also available from the council website.