Support available for groups as Climate Week gets underway
Published: Tuesday 27 September 2022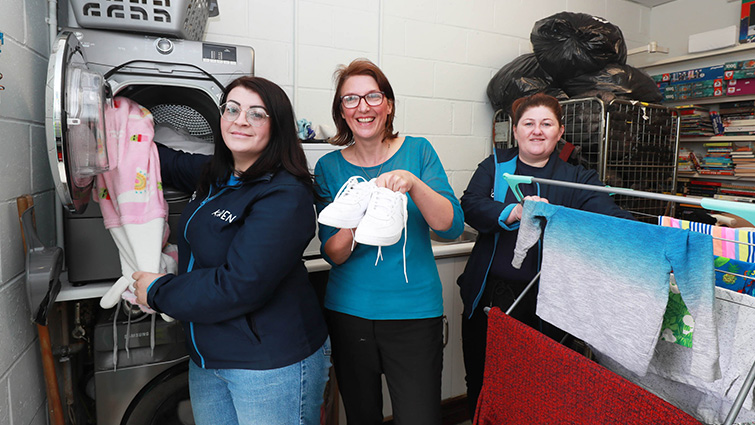 Scotland's Climate Week is underway.
The annual event aims to raise awareness of the global climate emergency and encourages climate action across the country.
And one resourceful community-based recycling initiative in South Lanarkshire has come up with smart and positive solutions to help save money and the planet while building a fantastic sense of community spirit.
Waist Not Want Not, based in Greenhills, East Kilbride is a clothing exchange scheme and offers a huge range of affordable new and used clothing, small household appliances and baby goods.
They also provide a wide range of fun activities where the community can come together to learn new skills, access information and support.
Project manager Jan Thompson and her team of volunteers continue to respond to community needs and aspirations.
She said: "We are committed to providing support and help for the community in as many ways as we can.
"As well as the exchange service we provide, which has been a great success, we have evolved into a vibrant and much needed community hub.
"What began life as a swap shop has developed into a community space offering a wide range of classes, learning and volunteering opportunities."
The organisation was recently awarded a grant from South Lanarkshire Council's Climate Emergency fund to purchase essential equipment.
Depute Chair of the council's Climate Change and Sustainability Committee, Councillor Kirsten Robb, said "It was great to have the opportunity to visit the Waist Not Want Not team.
"They are clearly rooted in their community and delivering a multitude of services to help people and the planet.
"The climate crisis and the cost-of-living crisis are linked, and the activities supported by this grant are helping address both."
The Climate Emergency Fund is still open to applications. Anyone who is inspired to take positive climate action in their community is encouraged to take advantage of the grants and support on offer.
All the details you need are on the council's website or you can email the Sustainable Communities Engagement Officer.