Social work could work for you
Published: Monday 13 March 2023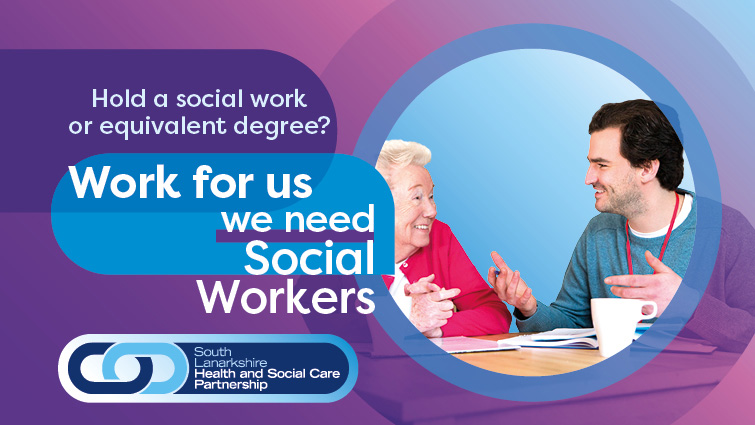 Now is the time for soon to be qualified and existing social workers to apply to our Adult and Older People's Services team.
And, according to two existing South Lanarkshire Health and Social Care Partnership social workers, it could very well be the best move you make.
Jessica Martin, who has been with the council for two years, said: "My final placement as a student was with the adult and older people team. So, I started as a student and I'm still here, working as part of a team of colleagues and managers who are knowledgeable and compassionate as well as supportive to myself, each other, and the people we support in the local community."
And Lauren Cartledge, who has been with the council for eight years, added: "I also started as a newly qualified social worker and have been a Team Leader since 2020.
"There is a good sense of community within social work, and I have found that staff tend to support one another through the highs and lows of our job."
The council is currently welcoming applications from registered Social Workers and students in their final year Degree in Social Work to join the Health and Social Care Partnership. Final year students must be qualified within two months of applying. Closing date for applications is Wednesday 12 April 2023.
Margaret Walker, chair of the Council's Social Work Resources Committee, said: "There is a wide range of social work opportunities available for the right candidates to work alongside our dedicated teams across South Lanarkshire.
"So, I hope to see as many candidates as possible taking this opportunity to apply to work with the Health and Social Care Partnership's Adult and Older People's Service teams."
Jessica said that ever since she was at school, she knew she wanted to be a social worker. She said: "I was initially put off by people telling me that I was too young. But now, if I had one piece of advice for my younger self, I would say that age does not determine your ability to be a good social worker."
When Jessica left school she studied for a BA (Hons) degree in Social Sciences but still wanted to work in social care so started social work training, graduating with a Post Graduate Diploma in Social Work in 2021.
Jessica said: "One of the best parts of my job, is being part of a process to bring about meaningful change in people's lives and witnessing the impact that this can have on their health and wellbeing.
"And from a personal point of view there are many opportunities for career development within the council and this has been discussed with me from an early stage. I have also been allowed to adopt a flexible working pattern which has had a positive impact on my work-life balance."
And Lauren Cartledge said: "There are many parts of my role that I enjoy but the most rewarding part is seeing people achieve their potential and have positive outcomes within their lives.
"The Health and Social Care Partnership is a good organisation to work for as I feel the management team are supportive and responsive to staff and there are good opportunities for progression through promotion and completing council funded post graduate courses."
Soumen Sengupta, Director of Health and Social Care for South Lanarkshire, said: "Social workers play a critical role in our health and care system and make a vital contribution to keeping individuals and families safe and well right across all our communities.
"I am grateful to Jessica and Lauren for sharing their experiences and speaking to how fulfilling they find working as part of our committed South Lanarkshire team.
"Jessica's and Lauren's stories speak to the encouragement and support they have been given since they chose to work with us.
"Social work is challenging and it is important – and here in South Lanarkshire we are committed to it providing an extremely rewarding career which provides our staff with opportunities to grow as valued members of our team.
There are currently opportunities to join Social Work in the Hamilton, Cambuslang, Rutherglen and East Kilbride areas.
SLA10984 - Social Worker (Adult and Older People's Services) Campaign - | South Lanarkshire | myjobscotland