Transform Business Festival comes to Lanarkshire
Published: Thursday 2 February 2023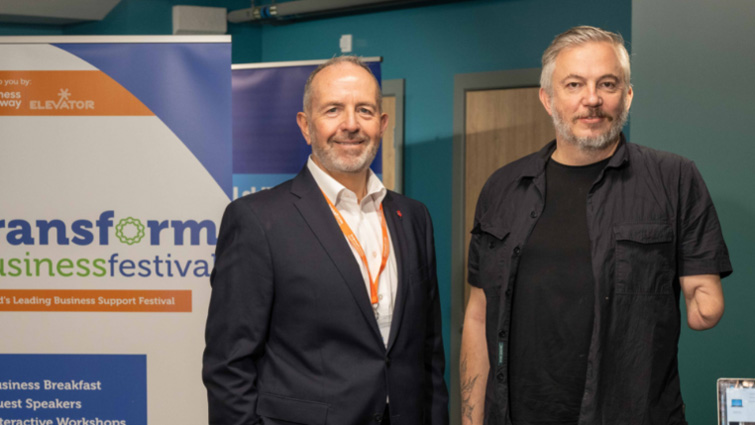 A business festival featuring a day of inspiring speakers, workshops and fun networking events is taking place next week.
The Transform Business Festival Lanarkshire will take place at The University of the West of Scotland's Lanarkshire Campus in Blantyre on Wednesday 8 February and will bring together local businesses from South and North Lanarkshire.
Free to attend, the event will kick off at 8am with an inspiring Business Breakfast featuring Keynote Speaker Giles Duley. A photographer, writer and CEO of the Legacy of War Foundation - Duley lost both legs and an arm on patrol in Afghanistan. He will share his incredible story and the relatable importance of building resilience in life and business.
The Business Breakfast will be opened by Councillor Robert Brown, Chair of the Community and Enterprise Resources Committee at South Lanarkshire Council.
Councillor Brown said: "Lanarkshire has a great history of producing entrepreneurs and business leaders, but for each one who achieves success, the seed has to have been planted and the right environment has to have been provided to allow it to grow.
"The Transform Business Festival is a significant event for the business sector, offering the vital advice, ideas and encouragement both for those who want to develop as entrepreneurs and for the organisations who want to develop an entrepreneurial culture.
"South Lanarkshire Council is a key partner in this major business event, helping the potential of today become the success stories of tomorrow."
Giley Duley will be joined by Elevator's CEO, Professor Gary McEwan, who will explore the mindset of successful entrepreneurs.
He said "Elevator are delighted to bring the Transform Business Festival to Lanarkshire in partnership with Business Gateway, North Lanarkshire Council and South Lanarkshire Council."
At 12pm there will be a Networking Lunch with former Glasgow Warrior and International rugby player, Lee Jones and former International cyclist & business owner, Charline Jones discussing confidence, mindset and getting 'fit' for business.
The Networking Lunch will be opened by Councillor Paul Kelly, Depute Leader of North Lanarkshire Council.
Councillor Kelly said: "This event is designed to help the businesses across Lanarkshire who are working hard to innovate, develop and look for new opportunities to grow."
Tickets for the event are available free of charge from the Elevator website.
Elevator, Scotland's leading business support organisation, has partnered with Business Gateway Lanarkshire, South Lanarkshire Council and North Lanarkshire Council to to bring this new entrepreneurial event to this region for the first time.
Professor Gary McEwan and Giley Duley are pictured above.