Celebrating International Women's Day
Published: Wednesday 8 March 2023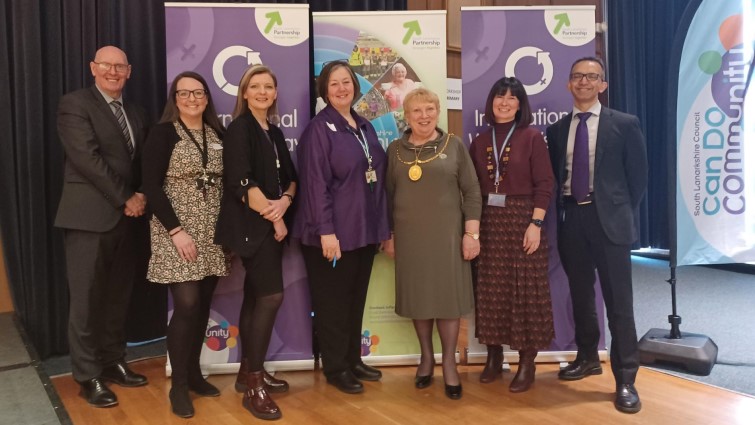 Today is International Women's Day.
The day is marked in South Lanarkshire by the lighting up of Hamilton Town House in purple and an event held in the Banqueting Hall at council HQ.
The theme for this year's International Women's Day (IWD) is to fully #EmbraceEquity. You can find out more about the theme from the official website for IWD.
Provost Margaret Cooper gave the opening remarks at the event, with other invited speakers including Heather Russell from Women's Aid South Lanarkshire and East Renfrewshire, Helen Provan from Lanarkshire Rape Crisis Centre, Ann Hayne from NHS Lanarkshire and former Scottish international football player, Leanne Crichton.
Provost Cooper said: "International Women's Day is a global day celebrating the social, economic and cultural achievements of women.
"There is no doubt that since the first IWD more than a century ago, as a society we have come a very long way in terms of gender equality, women's rights and our understanding of the causes and impact of violence against women and girls.
"That being said, there is also no doubt that there is still a long way to go and a lot of work to be done.
"I would like to thank all the speakers who came along and gave very thought-provoking talks on the day."
Director of Health and Social Care, Soumen Sengupta, said: "Today's event for International Women's Day provided an all-too-timely an opportunity to hear about the traumatic impact that violence perpetrated against women and girls has on individuals, families and communities.
"We also heard about the positive and inclusive action that has been and can be taken, and in which we all have a stake.
"Tackling violence against women and girls is everyone's business – with the onus on men to listen, to reflect and to act.
"My thanks to both those colleagues who spoke so powerfully in marking the Day and all those colleagues across South Lanarkshire who are dedicated to tackling violence against women and girls."