Whitlawburn transformed thanks to partnership approach
Published: Friday 18 August 2023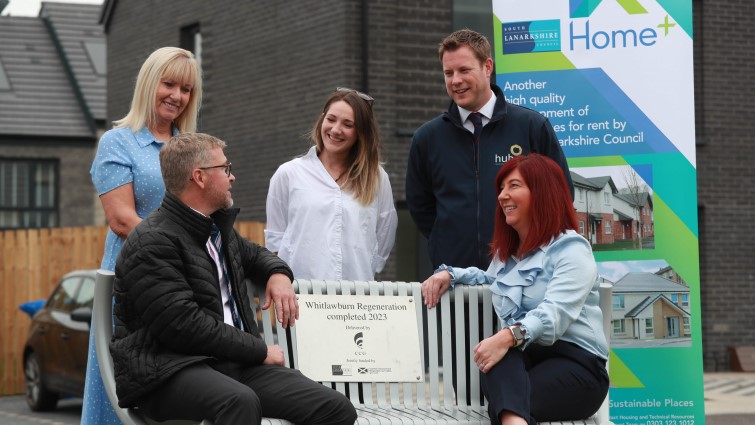 New homes, jobs, apprenticeships and money invested in the area – the transformation of Whitlawburn is now complete.
The community has undergone a dramatic change in recent years thanks to a unique partnership approach by South Lanarkshire Council, CCG, hub South West and West Whitlawburn Housing Co-op.
The multi-million pound Whitlawburn development has 311 homes, featuring a range of house types including two storey detached, semi-detached and terraced houses, along with cottage flats and four blocks of flats.
A total of 230 of the properties are socially rented with priority given to tenants who were relocated to make way for the new development. The remaining 81 properties were sold through CCG Homes.
A £50,000 Community Endowment Fund was provided by CCG, with tenants allocated a home in the new development consulted on how they wanted the fund to be allocated.
CCG also provided eight new jobs, 10 trade apprenticeships, 18 work placements and engaged with local schools including introduction of their first online curriculum support (due to the pandemic).
Executive Director of the council's Housing and Technical Resources, Stephen Gibson, said: "Whitlawburn is without doubt a fantastic community asset and one the council and all our partners are rightly proud of.
"We are delighted that the partnership approach has been so successful, and I am sure the area will continue on its journey as a thriving, vibrant community.
"We will of course continue to work with our partners to deliver for everyone who stays there."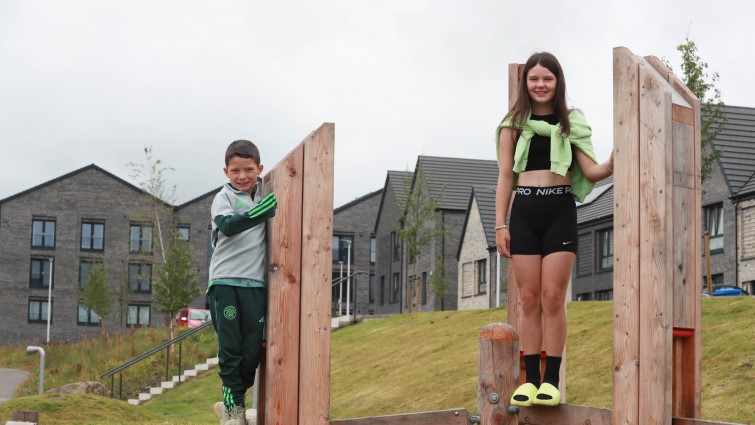 Michael Ross, Chief Executive of hub South West Scotland, said: "We are pleased to complete another successful, value for money development for South Lanarkshire Council. This project is a true exemplar of a large-scale housing development, with high quality energy-efficient new homes designed to meet residents' varying needs.
"With all of our projects, community wealth building and social value is our core focus and we strive to create places that will truly benefit those living there. Together with delivering much needed, quality new homes, this development has also created new jobs, apprenticeships and valuable training opportunities within the local community."
CCG Managing Director, David Wylie, said: "If there was ever a development that personifies the CCG Group, Whitlawburn Regeneration is it.
"From concept to construction and full completion, the entire project was supported by an indigenous infrastructure located just 2.5 miles from the site.
"This integrated expertise ensured that we mitigated the effects of the pandemic when others could not and allowed us to maintain delivery of these much-needed affordable homes for community members that needed them most.
"I give thanks to our dedicated staff, supply chain partners and the project team for their unwavering commitment; Whitlawburn is not just an exemplar for South Lanarkshire but also for Scotland and it is a testament to what partnership working can achieve despite the most challenging of circumstances."
Grant Clayton, Deputy Director, West Whitlawburn Housing Co-operative, said: "We were delighted to have the opportunity to participate as a partner in the East Whitlawburn Regeneration project.
"These new homes provide much needed quality, energy efficient and affordable housing in the Whitlawburn area.
"The 60 properties delivered for West Whitlawburn Housing Co-operative in Phase 3 of the project are fantastic addition to our stock profile.
"We would like to thank all of our staff for their hard work during the development and our consultants who provided guidance and assistance over the course of the project."
The development was part funded by the Scottish Government.