Lanarkshire's business winners revealed
Published: Monday 4 September 2023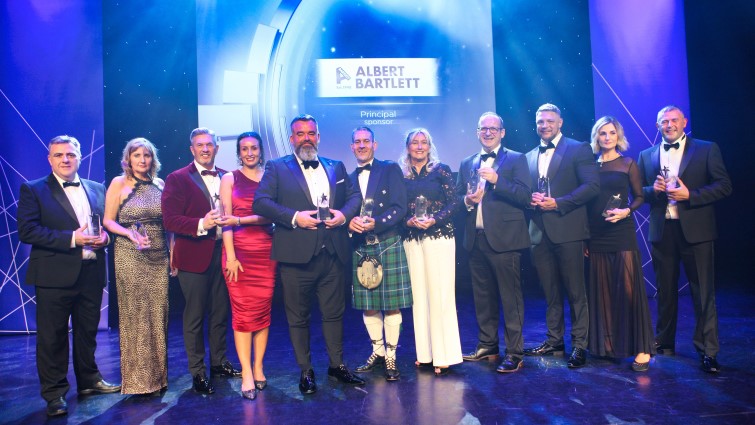 Lanarkshire's thriving business community celebrated its achievements at the 2023 Lanarkshire Business Excellence Awards.
The Gala Dinner on Friday 1 September welcomed more than 430 guests to the most prestigious night in the Lanarkshire business calendar, hosted by broadcaster and comedian, Fred Macaulay.
The event, hosted by South and North Lanarkshire Councils, alongside main sponsor Albert Bartlett, also raised £4,100 for Kilbryde Hospice.
The winners in each of the ten categories were:
• Big Bite Catering - winner of Lanarkshire's Best Business (0-10 employees) Award, sponsored by Clyde Gateway
• McCrae Training - winner of Lanarkshire's Best Business (11-50 employees) Award, sponsored by Volvo
• Probe Test Solutions - winner of Lanarkshire's Best Business (51+ employees) Award, sponsored by UKSE
• Jigsaw Travel - winner of Excellence in Customer Service Award, sponsored by Visit Lanarkshire
• MDH Recruitment - winner of Lanarkshire's Best New Business, sponsored by Business Gateway Lanarkshire
• The Power Within Training - winner of Lanarkshire's Innovation Business Award, sponsored by Commsworld
• MorphFit Gentle Movement Project - winner of Lanarkshire Community Impact Award, sponsored by Morgan Sindall & Lovell Homes
• Equis Ice Cream - winner of Lanarkshire's Green Business Award, sponsored by Procast
• Lazy Day Foods - winner of Lanarkshire's Food & Drink Award, sponsored by DYW Lanarkshire
• MGB Services - winner of Lanarkshire's Apprentice of the Year Award, sponsored by North Lanarkshire's Working and South Lanarkshire Works.
Chair of South Lanarkshire Council's Community and Enterprise Resources Committee, Councillor Robert Brown, said: "Once again the Lanarkshire Business Excellence Awards have highlighted the wonderful, diverse range of businesses we have across the area.
"Huge congratulations to all the winners, they thoroughly deserve to be recognised for how successful their individual businesses are in very challenging times.
"The quality of all the finalists was absolutely top-notch as well – as a member of the judging panel, it was no easy task to pick the winners.
"The awards are always a great occasion and congratulations to everyone who was part of such a successful evening."
Councillor Alex McVey, Convener of the Enterprise and Fair Work Committee at North Lanarkshire Council, said: "Lanarkshire businesses are vital to our local economy and these awards provide an excellent platform to highlight their hard work and achievements.
"Congratulations to all the outstanding finalists and the winners. With a record number of entries this year, competition was fierce and all the judges were impressed by the quality of the entries.
"Thank you to this year's sponsors. Without their support the awards would not be possible."
The Lanarkshire Business Awards are one of the longest running in Scotland and celebrate the achievements and successes of the local business community.
Further details and the full list of finalists can be found on the Lanarkshire Business Awards website.