One wedding leads to another for Diamond couple
Published: Wednesday 20 September 2023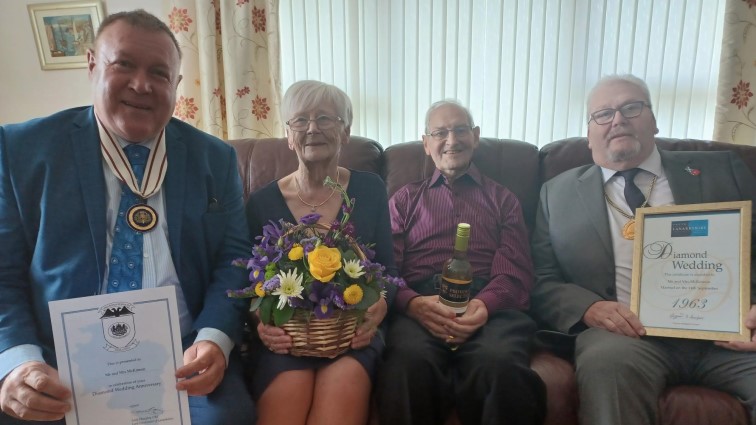 A first date at a wedding ended up leading to 60 years of married bliss for a Hamilton couple.
Alexander McKinnon was a keen footballer in his younger days and was best man at a team-mate's wedding. The groom also happened to be the cousin of his future wife Margaret.
Alexander and Margaret certainly hit it off at the wedding, getting engaged a year later in 1962 before being married at Fernhill & Cathkin church on 14 September 1963. They honeymooned in Jersey.
Their first house was in East Kilbride before they moved to Hamilton in 1968 where they have lived ever since.
First child Alistair was born in 1967 with daughter Lindsay following in 1971. The couple have two grandchildren by Linsday, Emily (11) and Zoe (9).
Margaret was a keen tennis player in her younger days, and both also enjoyed playing squash for many years.
Alexander was a bricklayer by trade but in 1964 moved into further education as a lecturer, retiring in 1995 as a head of department at a further education college in Glasgow. Margaret worked in offices and retired as an office manager in 1998.
For most of their adult life they loved holidaying abroad with the family, but in recent years have concentrated more on their grandchildren, gardening and watching Alistair's dog.
South Lanarkshire Depute Provost Bert Thomson presented the couple with flowers, a special bottle of wine and a certificate on behalf of the council. Deputy Lord Lieutenant for Lanarkshire David Russell handed over a certificate to mark their achievement, with a congratulatory card also having been received from King Charles.