WOW challenge underway at Crawforddyke
Published: Friday 22 September 2023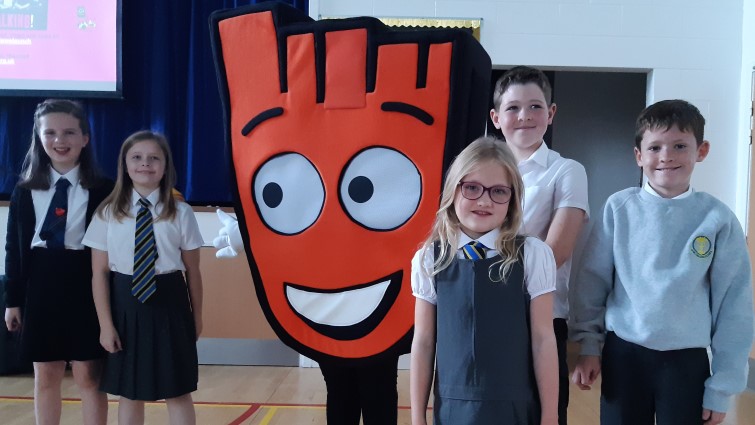 Pupils at Crawforddyke Primary School have started the new school year on the right foot.
They have been encouraging their parents to leave the car at home and instead walking, wheeling, cycling or scooting to school.
They were joined by Living Streets mascot Strider at a celebration assembly on 1 September 2023 to launch a new year of WOW – the walk to school challenge from Living Streets Scotland
Over 150 primary schools in Scotland take part in WOW, which sees pupils record their journey to school on the interactive WOW Travel Tracker and rewards those who walk, wheel, cycle, scoot or 'Park and Stride' to school with a WOW badge.
In Scotland, WOW schools see on average a 5-10 per cent increase in pupils walking to school with a corresponding drop in car use, helping to reduce congestion and improve safety outside the school gates.
Audrey Moffat, Depute Headteacher, Crawforddyke Primary School, said: "Crawforddyke pupils are really excited to be taking part again in Living Streets Wow Challenge.
"They are already discussing the different ways they can travel to school, other than by car, and hopefully earn more badges."
Chris Thompson, Programme Manager, Living Streets Scotland, said: "WOW is easy for teachers to use, and pupils love to take part.
"We're thrilled that so many schools across Scotland are experiencing the many benefits that regular exercise can bring to our health and happiness. Walking to school can help children and their families start the day with a spring in their step and it's great to see such dedication and enthusiasm from pupils and staff."
WOW badges are designed by pupils in Living Streets' annual badge design competition. This year's theme is 'The British Nature Walk' and aims to bring pupils closer to the nature found across Britain. As pupils walk to school through the year they will learn and collect badges depicting urban and rural British landscape and animals.
South Lanarkshire Council and Living Streets Scotland have worked in partnership since January 2023 and continue to progress the active travel agenda in South Lanarkshire schools and support South Lanarkshire Council with this work. In 2022-23 there were 18 schools taking part in the WOW programme, with more set to join for 2023/24.
If your school would like to get involved with the WOW Walk to School challenge or you would like to find out more, please email Living Streets scotschools@livingstreets.org.uk