60 years of marriage still music to their ears
Published: Friday 29 September 2023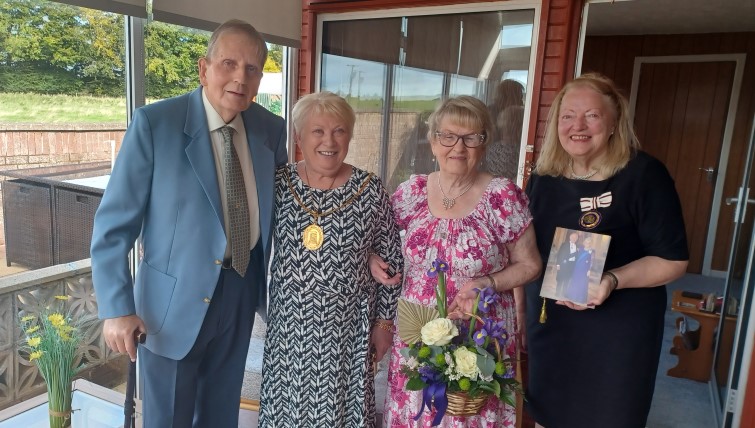 Charlie and Greta Young first met over an incident with music being played too loud on the radio.
The Stonehouse couple still remember the day as if it were yesterday.
But it was back in the summer of 1962 on Main Street, Cambuslang, when the incident that would lead to a lifetime of happiness together took place.
Greta said: "It was a lovely sunny day. Me and some of my friends were playing a radio rather loudly. But then we saw two police officers walking towards us. I was terrified that we were going to get into trouble.
One of the police officers was Charlie who simply asked her to turn the music down a bit.
Charlie remembers fondly: "It was the first time we ever spoke, and she quickly did as I told her to and turned down her radio.
"Looking back on that day now, I could probably say that was the first and last time she ever did what I told her to do," he said with his tongue firmly in his cheek.
Joining them at their home in Stonehouse to help them celebrate their Diamond Wedding Anniversary was South Lanarkshire Provost Margaret Cooper, who presented the couple with flowers, a special bottle of whisky and a certificate on behalf of the council.
And Deputy Lieutenant for Lanarkshire Margaret Morton was also on hand to present them with a certificate from The King and The Queen Consort to mark their achievement.
Greta was born in Cambuslang on 19 November 1942 and spent most of her working life as an accounts clerk / book-keeper.
Charlie was born in Motherwell on 17 May 1941 before moving to Wishaw. He worked as a motor mechanic prior to joining the police in 1961.
After the radio incident Charlie and Greta started going out together and were engaged in April 1963 and married on 20 September 1963.
They moved into their first police house in Holytown before moving to their second in Stonehouse when Charlie was posted there in 1966. They bought their own home in the town in 1969 and have stayed in their cottage for the last 54 years.
Charlie and Greta have one son, two granddaughters and three great grand-children.
Charlie's hobbies include barbequing, cruising holidays and driving to London to visit the family.
Greta still curls. During the war she was in the WRVS and continued to work with them for 31 years, often as Treasurer and represented them at Glasgow City of Culture, marched at the Cenotaph in London representing Scotland WRVS and was invited to Holyrood Palace Garden Party.
Both have long service medals – Charlie for his police service and Greta for her work with the WRVS.