Rolls-Royce helped Strathaven couple on road to happy marriage
Published: Monday 2 October 2023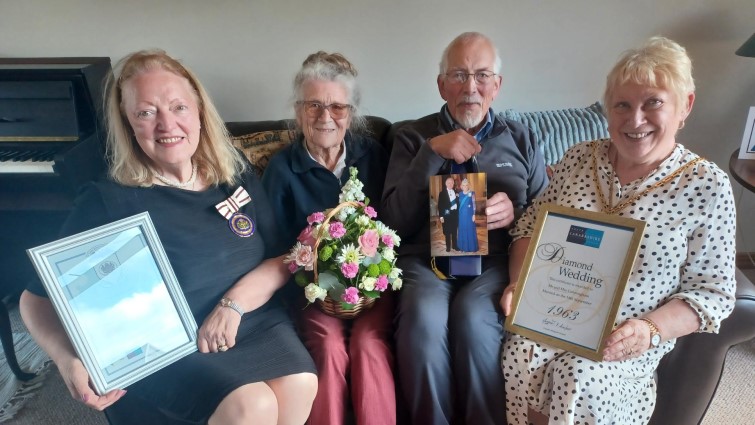 A Strathaven couple have celebrated 60 years of a Rolls-Royce of a marriage.
Michael and Jennifer Cunningham met after he joined Rolls-Royce in Derby for a five-year University Apprenticeship.
There he became friendly with a colleague, John Evans, who, with his girlfriend, Liz, had arranged for Michael to meet her sister… Jennifer.
And in 1963, two years after meeting, a double wedding took place! Their honeymoon took the couple to France where Jennifer had previously spent a year as an au pair.
Jennifer had been doing secretarial work at a solicitor's firm in Sheffield and got a similar job in Derby with a plumber's merchant, while Michael continued as a designer at R-R until 1965 when he was offered a position as a design supervisor with the engineering group in Hamilton.
They moved into a new house in Strathaven in 1967, not long after their first daughter, Catherine, was born. Dominic followed in 1970 and Victoria in 1979, with all three being Bellshill babies and going on to attend Strathaven Academy.
A full-time mum, Jennifer was kept busy running the household as well as covering a huge number of miles driving the girls to piano lessons in Bearsden for 21 years.
In 1995, when Michael was a Chief Design Engineer, redundancy saw him move to work with Renishaw, who are world leaders in metrology products – a job that saw him through to retirement in 2003.
The founding of Strathaven Choral Society by David Knox was the perfect place for Michael to rekindle his long-held love of music and start singing again. Joining just after their first concert, he has sung at every concert since, also becoming a member of the newly revived choir at St Mary's Episcopal, in Hamilton, in the early 1990s.
Michael also enjoys wood-working and has completed an oak staircase and a panelled oak front door and has rebuilt their kitchen with his own design of units.
Jennifer always enjoyed working in the garden, and she still walks down into Strathaven, usually twice a day.
A lifelong petrolhead, Michael bought an MG two-seater in 1998 and takes it to Silverstone and Donington Park track days, while the couple also join other members of the MG Car Club on occasional outings.
As well as receiving best wishes on their diamond wedding anniversary from their children and nine grandchildren, the couple were congratulated by two special guests.
South Lanarkshire Provost Margaret Cooper presented the couple with flowers, a special Provost's bottle of whisky and a certificate on behalf of the council and Deputy Lord Lieutenant for Lanarkshire Margaret Morton handed over a certificate to mark their achievement, with a congratulatory card also having been received from King Charles.