No puzzle as to why Bill and Betty are still driving forward after 60 years
Published: Wednesday 28 September 2022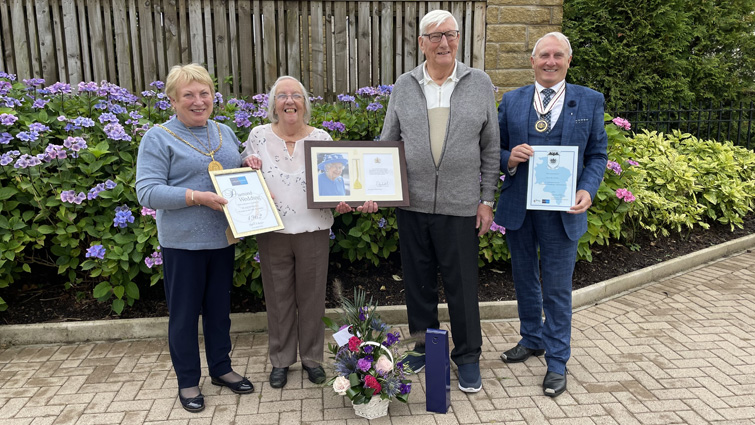 Bill and Betty Kearins are still puzzling away after 60 years of marriage but they first got together over a tin of food.
The couple first met when Bill was working as a delivery boy. As he was much taller than she was Betty asked him to grab a tin from a shelf in the grocery shop she was working in.
The content of the tin has long been consigned to the past but the couple have plenty other memories to have kept them going together for the last 60 years.
They were married at St Saviour's Chapel in Govan on 12 September 1962. They started off married life in the south side of Glasgow before moving to East Kilbride in December 2002 where they have lived ever since.
Bill spent most of his working life as an HGV driver with Glasgow City Council's Cleansing Department from 1968 until retiring in 2000 after 32 years of service. Before that he was a bus driver.
Before the couple started a family, Betty also worked "on the buses" as one of the famous clippies (conductress).
After having their three daughters. Betty also worked for the City Council, in St Conval's Primary School and then the Pollokshaws Housing Department as a cleaner before retiring in 2005.
Bill, now 82, still drives and the couple love trips out in the car.
He also enjoys doing crosswords but admits that Betty usually helps with the last couple of clues when he gets stuck. He also enjoys doing his jigsaws.
Their three daughters are Suzanne, Yvonne and Louise, all of whom still live nearby, a fact that Bill and Betty agree has always been a fantastic part of their lives together.
And joining the family to help them celebrate their anniversary were South Lanarkshire Provost Margaret Cooper, who presented the couple with flowers, a special bottle of whisky and a certificate on behalf of the council. And joining her was Deputy Lieutenant for Lanarkshire John Brown, who also presented them with a certificate to mark their achievement.
Bill and Betty love spending time with their grandchildren and great-grandchild.
Their daughters are Suzanne, who is married to Alan, with their son David. Yvonne is married to Jim with two daughters Samantha and Chloe - Samantha is now married to Adam with their 22-month-old son Xander. And Louise is married to David and they have one daughter Rebecca.
If you would like the Provost to attend a Diamond Wedding or 100th birthday please get in touch with the Provost's Office.