Couple still sweet on each other after 70 years
Published: Friday 26 May 2023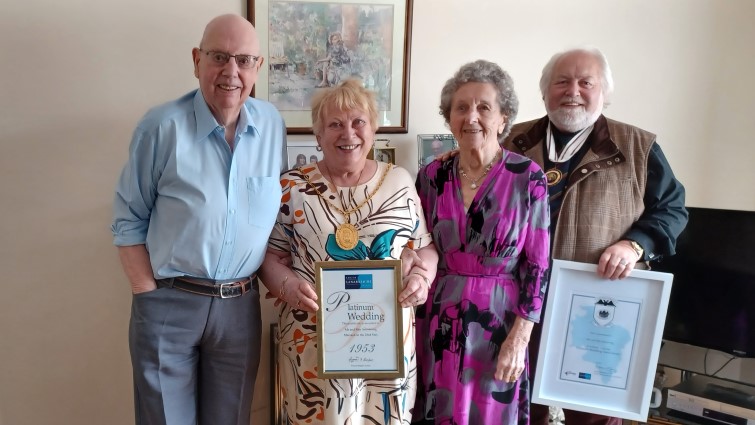 Stonehouse couple, Jessie and Ian (John) Armstrong, are celebrating their Platinum Anniversary this week.
And they still remember fondly the first time they met.
When Ian left school, he was working for a building company in Strathaven, just across the road from the sweet shop where Jessie was working at the time.
Jessie said he always came into the shop, but he never bought any sweets. Nevertheless, they struck up a friendship and have been together ever since.
Ian Armstrong, who was born in Stonehouse, and Jessie Boyd, from Strathaven, were married in Avondale Parish Church in Strathaven on 23 May 1953.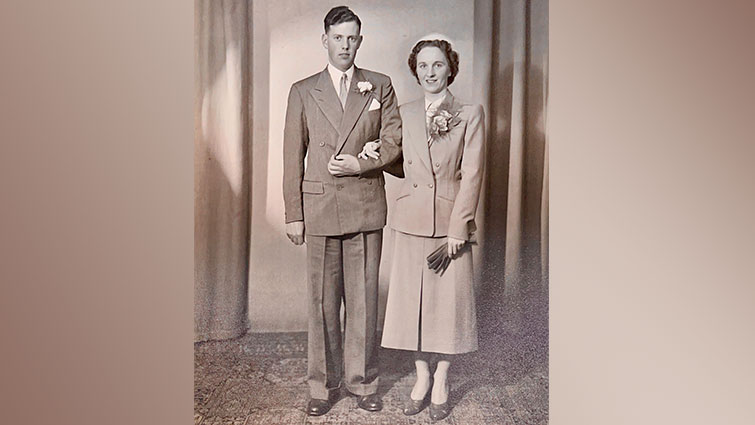 After they married, they moved to Stonehouse where they have lived ever since.
Joining them at their home this week to help them celebrate their Platinum Wedding Anniversary was South Lanarkshire Provost Margaret Cooper, who presented the couple with flowers, a special bottle of whisky and a certificate on behalf of the council.
And Deputy Lieutenant for Lanarkshire Alexander Wilkie MBE was also on hand to present them with a certificate from The King and The Queen Consort to mark their achievement.
Now 92, Ian worked in the building trade for much of his working life, working his way up to construction site manager before retirement.
And Jessie, who is now 93, worked part-time in Lightbody's bakery in Strathaven Common Green until her retirement.
The couple have a son, a late daughter, three grandsons and three great grandchildren.
Both Jessie and Ian were well known over the years in lawn bowling circles, travelling around Scotland and England.
And they travelled more extensively around the world when Ian was World Bowls President in 2004 when they also had the privilege of hosting the Princess Royal Princess Anne as their guest when she opened the World Bowls Championships in Ayr that year.
They also travelled widely on holidays for many years, attributing that to one of the reasons why they are still together and as happy together as they have always been. Working hard but making sure they also had time for holidays together was always very important to them.
Nowadays they often reminisce on some of their favourite trips to rural Portugal and further afield across Malaysia.
And they enjoy supporting each other through each and every day without fail in their bungalow in Stonehouse.
If you would like the Provost to attend a Platinum / Diamond Wedding or 100th birthday please get in touch with the Provost's Office.