Wish list helps shine light on potential life-saver
Published: Thursday 14 September 2023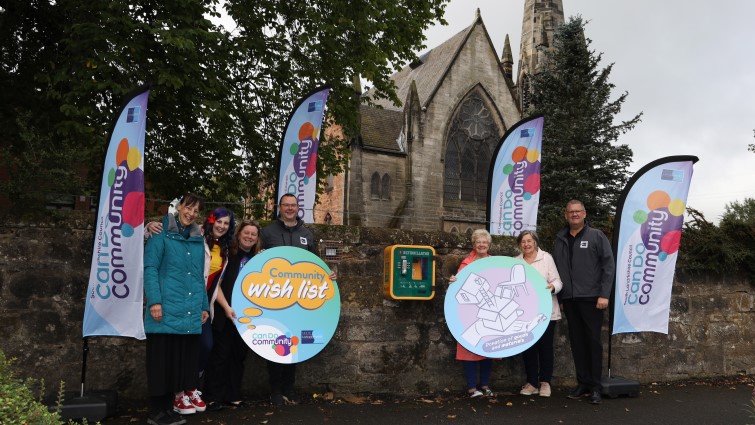 A potentially life-saving defibrillator can now be easily seen in the dark – thanks to the council's Community Wish List.
The Community Wish list is a way that local communities can make specific requests for support from council suppliers or contractors that will benefit their local community, their projects and causes.
Blantyre Old Parish Church got in touch through the Community Wish List website to request a light be installed near their defibrillator. Its location meant it was hard to see in the dark, hence the need for a light.
Block Architects bought and installed the light as part of the Community Wish List project.
Church Elder Mary Sutherland said: "The defibrillator was purchased with a legacy left to our Church by Nance McDonald.
"Nance was a nurse all her life and the session thought it would be fitting to install the defibrillator in her memory.
"Once fitted we realised that the area was very dark at night and made a Community Wish for the area to be illuminated.
"Kenneth from Block Architects and his electrician Adam were amazing in granting our wish.
"The light shines like a wee beacon guiding already anxious folks to the life-saving equipment.
"Since installation the defibrillator has been accessed four times so our Nance is still saving lives and serving our community.
"It is great to see companies like Block Architects giving to the community and granting wishes, we cannot thank them enough."
Managing Director of Block Architects, Kenneth Martin, said: "We are delighted to have worked with Optical Lighting, Fauldhouse in order to secure the wish for a new external light at Blantyre Parish Church.
"The Community Wish List is a wonderful initiative.
"Alongside assisting the Church we have managed to work with our business contacts to introduce them to the list and I believe some of the wishes have also been granted.
"We are proud to have been involved and will continue to assist and promote the list at every opportunity."