Primary school project is food for thought and the climate
Published: Tuesday 26 September 2023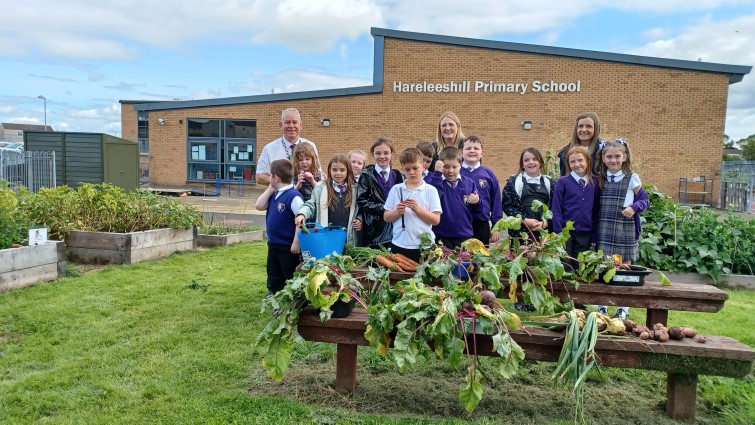 Primary school pupils have been reaping the rewards of their labours with a bumper crop of vegetables.
Thanks to a £2200 grant from the council's sustainability and climate change fund plus £1000 from the council's food strategy fund, Hareleeshill Primary School in Larkhall was able to buy a polytunnel, 10 raised beds, soil, plants and seed and gardening equipment to create a vegetable garden at the school.
And now, after a lot of hard work and effort from every classroom, the pupils are at the exciting stage of harvesting their produce.
Everything from peas, beans and strawberries to carrots, beetroot and potatoes have been lovingly cared for over the past few months in time for picking after the summer break.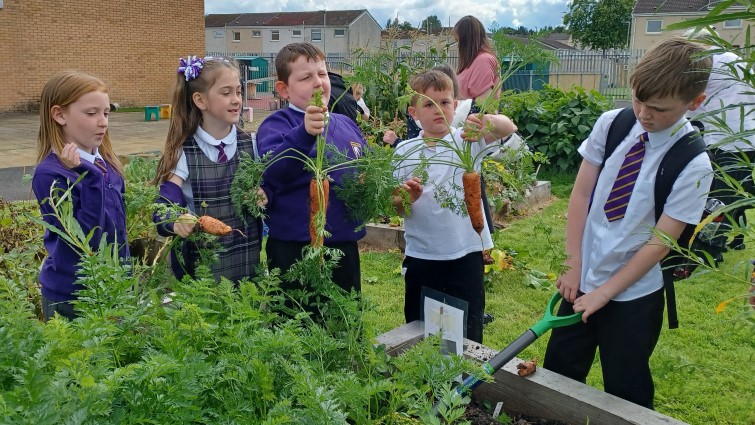 Earlier in the year class groups also planted seeds for bedding plants and flowers which were grown on in the polytunnel before being planted out at the school. Any surplus was then sold to the school community in late spring to raise funds to buy seeds, compost and other materials for the work to get underway again this year.
The school's project is just one of many taking place across South Lanarkshire to support Climate Action Week 2023
P7 gardening ambassador Lucas said: "I prefer to be in the garden rather than in the classroom and I still learn lots. I like digging up all the stuff once it has grown."
And the school's junior garden ambassador, P4 pupil Mason, added: "It's fun to be in the garden. My favourite bit is digging up the carrots, potatoes and beetroot. I feel happy in the garden."
David Booth, the council's Executive Director of Community and Enterprise Resources, said: "Projects like this one show just how enthusiastic our young people are when it comes to learning and interacting with the environment.
"And getting the message across about sustainability and how easy it is for anyone to do their bit to make a difference must be applauded.
"Getting our young people involved at an early stage is a great way for them to understand just how important it is to improve not only our own health and wellbeing but that of our communities and the positive consequences it has for the climate as a whole."
The teachers use the work as part of their science curriculum with all children at the school learning about how plants grow and how to care for them.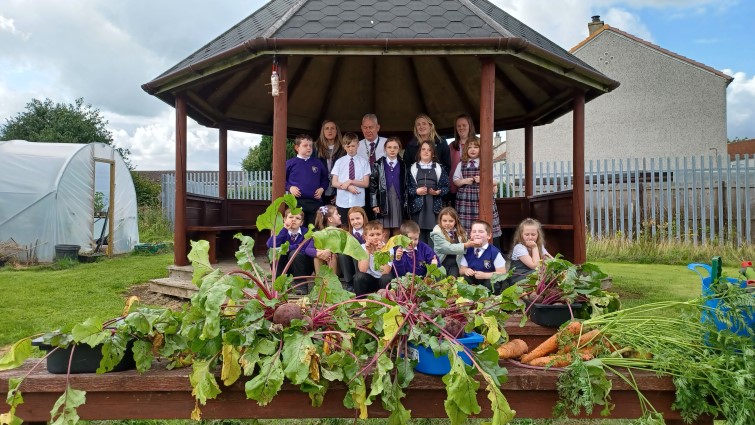 Kevin Kearney - Depute Head Teacher ASN (acting) said: "The children are all very engaged in helping construct the garden and growing plants in their classrooms.
"Some individual children have benefited from having a responsible role in this project and have supported other classes and children with planting after some training. These responsible roles will continue as the project progresses."
Teachers and pupils are now using the vegetables they have grown in food technology and health and wellbeing lessons. This has included making some delicious vegetable soup and pickled beetroot using cooking equipment funded by Education Scotland's Food for Thought programme.
Parents and carers will also have the opportunity to cook with their children using the cooking equipment and vegetables from the garden as part of our parental engagement programme.
Anyone wanting to get involved in a climate positive project in your own community can email sustainability@southlanarkshire.gov.uk' so that our team can provide support and assistance.
For more information please go to our Sustainable development and climate change strategy and our Good Food Strategy information pages.