Val's blog

Val's blog - May/June 2020
Connected when connection is needed most

In the wake of the COVID-19 pandemic, how we live and work has been completely transformed. In future blogs and across various other platforms, we will keep you informed on the key aspects of the health and social care recovery process.
For now, however, I wanted to reflect on an aspect of our partership journey so far, I believe, bodes well for the vital next stage. That's the importance of connections.
I was struck by the story of mum-of-one Ashleigh Allan from Viewpark, Lanarkshire, pictured with her daughter Brihanna.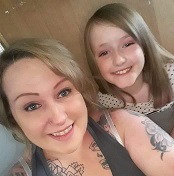 Ashleigh and daughter Brihanna
Ashleigh is living with acute anxiety and depression and is supported by community psychiatric nurse, Claire Stevenson.
Like many other community services, Claire has had restricted capacity to go out and see patients - but has regularly linked to Ashleigh via 'Near Me' video consultations. Despite initial fears of being isolated, Near Me has meant that Ashleigh has felt connected - when connection has been needed the most.
Connections like this have been made possible by our award-winning Technology Enabled Care (TEC) team, working closely with colleagues across Lanarkshire, they have created the infrastructure to enable 11,000 consultations since March. An incredible achievement - detailed on our website - and made all the more remarkable considering there were 75 consultations in February.
It's not just scaled-up technology keeping us together. Compassion and thoughtfulness is too.
The brilliant efforts of one of the oldest residents of McClymont House in Lanark, underlines that. Despite living with athritis, 98-years-young Mrs Rebecca Parker has embarked on a 100-day piano marathon for charity. Every morning the nimble fingured nonagenarian, originally from Skye, plays Scottish music on the Baby Grand piano. Despite residents having to remain separate because of distancing, the melodies can be heard throughout the home - providing a vital note of comfort and connection for others during the lockdown. Read the full story on our website.
The spirit of togetherness has also been brought to life in this short film, about how two heroes of WWII connected from their care home to a local primary school hub to celebrate VE Day (via the wonders of Near Me).
Also providing continual reassurance in our communties is an army of volunteers, who are quite rightly being recognised in volunteer's week. Their contribution has been profund and a small but vital part of their overall efforts are highlighted in a special animation we have made on the subject of 'shielding'. It explains how partners including volunteers are working together to protect the most vulnerable.
Today, the future looks much different than any of us could have imagined at the start of the year.
But all the connections we have forged and innovative ways we have forged them, will equip us well for the challenges and opportunities ahead.
Thank you for reading
Val de Souza
Director of Health and Social Care
South Lanarkshire Health and Social Care Partnership
Val's Open Door Session
You can connect with Val for her next open door session on Teams. You can book a 15 minute slot on 3 June between 3pm and 4.30pm by calling 01698 453700 or email Val's office
News Updates
Vote of Thanks from the Chair of South Lanarkshire Integrated Joint Board
Councillor John Bradley has thanked all in the partnership for their ongoing dedication and support in a special video update. You can watch the clip on vimeo or you tube.
Support for you
COVID-19 has changed our lives, both at work and at home. While you work to support other people during this time, we know that you still have to deal with everday challenges in your personal and home life. Support is available at the National Wellbeing Hub.
There are also a number of websites, listed below, with information on looking after mental health. Please take a look at these and the up-to-date information sent out in regular staff briefings. They are there to help you too. A telephone line for stress support has also been opened by Salus. Contact 0808 281 9288. Lines open from 9am-7pm, Monday to Sunday.
If you have a story you'd like to share in Val's blog please get in touch by either phone: 07917041853 or email us.