Latest News
Ceremony to mark construction of Larkhall Primary Care premises
Published: Tuesday, 05 November 2019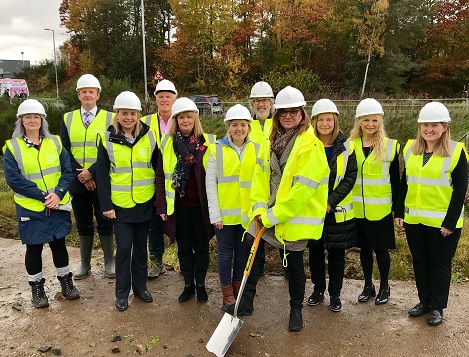 A sod-cutting ceremony to mark the construction phase of the relocation of the Union Surgery, Larkhall took place yesterday
The event was held at the site of the new premises, Broomhill Drive, Larkhall, adjacent to Larkhall Leisure Centre. The new practice will be named Morgan Glen Surgery, after the nearby woodland area.
The development marks a commitment given by NHS Lanarkshire and South Lanarkshire Health and Social Care Partnership, to work in partnership with the practice to support the long-term delivery of General Medical Services in Larkhall and surrounding areas.
The practice currently has six partners and almost ten thousand patients, with current services continuing as normal at the Union Surgery in the interim. The new purpose-built healthcare facility will incorporate all services within the existing practice but in a fully-modernised environment.
Senior Partner Dr Diane Kinniburgh who has been a GP at the practice for over 25 years said: "The partners and staff of Union Surgery are delighted at the prospect of moving to a new premise that will enable us to meet the current and future healthcare needs of the people of Larkhall for many years.
"We hope this new facility will help us to further develop services and give patients improved access to multi-professional care and treatment. It will also provide us with further opportunities for more flexible use of clinical space. This is vital as the practice continues to expand its nursing, administrative and allied health professionals."
Dr Linda Findlay, Medical Director of South Lanarkshire Health and Social Care Partnership added: "This is a very positive step for the people of Larkhall. Sustainable general practice is critical for delivering patient care. This new location will allow the practice to move from an old, inflexible and restricted building to a modern healthcare facility.
"The new premises will be within a short walking distance from the current practice, offering good transport routes within the town centre area and improved car parking provision. Importantly, alongside these improvements, it will not alter how patients access current services."
The Union Street practice can trace its roots back to 1927, when the late Dr John Parker established a medical practice in the then small industrial town of Larkhall.
The original location of the practice was London Street where it was a then typical room-in-a-house surgery. Dr Parker, moved his surgery from London Street to the present site in Union Street in the 1940s.
Not only does the practice pre-date the introduction of the NHS, but a local sheltered housing complex is named after Dr Parker and highlights the significant local links and contribution this practice, in its various forms and locations, has made to the people of Larkhall over the best part of one hundred years.
Developers Alexander Braidwood and Sons are working in close partnership with the practice to create this new surgery. Work on the new practice is underway and is expected to be complete by summer 2020.
Picture caption:
From left to right – Dr Sharon Russell (Associate Medical Director of South Lanarkshire Health and Social Care Partnership), Alistair MacKintosh (Primary Care manager at NHS Lanarkshire), Dr Sarah McCready (GP partner), Andrew Braidwood (Director, Alexander Braidwood and Sons), Frances Knox (Advanced Nurse Practitioner, Associate partner), Dr Kirsteen Gibson (GP partner), Scott Braidwood (Director, Alexander Braidwood and Sons), Dr Diane Kinniburgh (GP partner), Laura Mather (Practice Manager), Dr Sharon Turner (GP partner) and Dr Eleanor Gunn (GP partner).