Latest News
Revealed: Award winning team's listening ears are the secret of resounding success
Published: Friday, 22 November 2019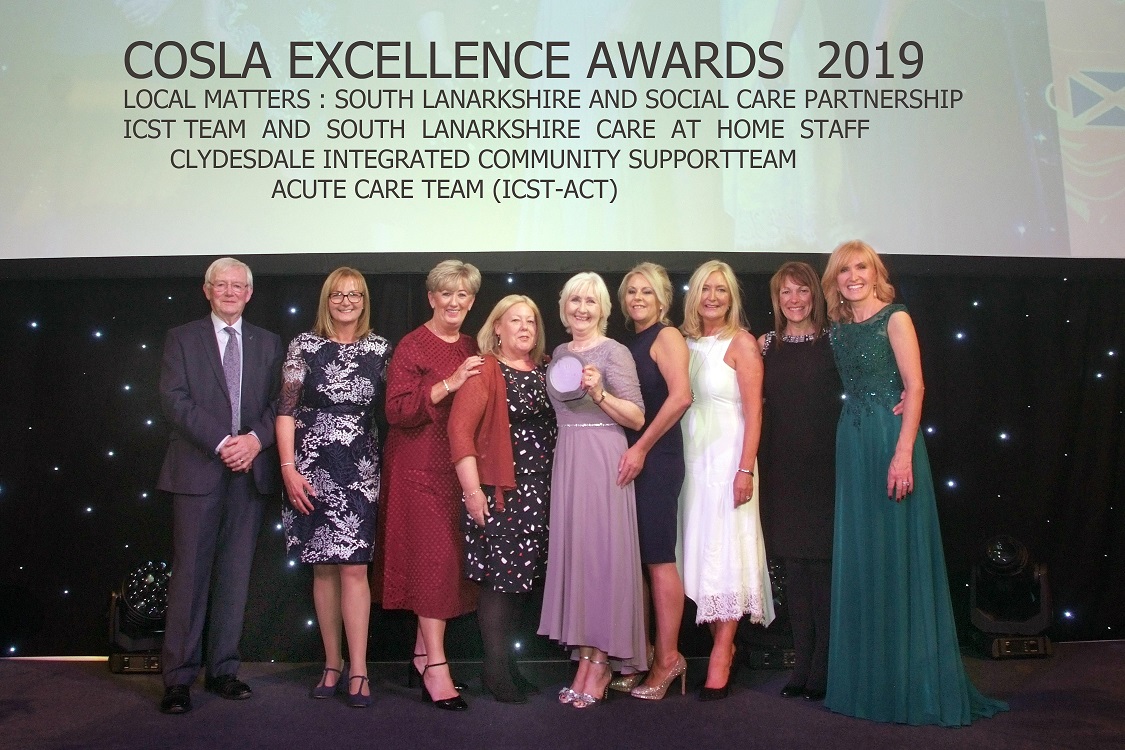 The leader of an award-winning health and social care team has revealed the secret of success – a listening ear!
Clydesdale's Integrated Community Support Team – Acute Care Team (ICST-ACT) supports people experiencing acute infections or sudden deterioration in their health to remain at home. Through combined expertise from the multi-professional team and the provision of intensive support up to 72 hours, patients supported have successfully avoided an otherwise inevitable hospital admission.
In recognition of their exemplary work, ICST-ACT recently won the Local Matters award at the fiercely contested COSLA awards. In its original appeal for submissions, COSLA stated: "We want to hear about how you are addressing local priorities and circumstances, and helping local people exercise control over what matters to them."
And Maureen Dearie, South Lanarkshire Health and Social Care Partnership's Locality Manager for Clydesdale, explained her team have been built by listening carefully to - and acting on - local people's needs and wishes.
"In recent years, our Partnership have embarked on widespread, ongoing public engagement to support the development of health and social care services.
"What we've heard consistently is that, for many people, they don't want to spend elongated periods of time in hospital, if they can avoid it. They want to retain independence – and they want to be near loved ones – and those dependent on them.
"ICST-ACT is essentially a practical solution to meeting that aspiration at a local level."
Ms Dearie explained that the early formation of the team was characterised by community involvement.
"A steering group was set up with health and social care professionals, as you'd expect. Crucially, we were also inclusive of community representatives – speaking on behalf of local people and local unpaid carers.
"The steering group carefully considered all angles – with action in mind. They debated – but built consensus. They overcame challenges that can often beset such endeavours with resolution.
"Importantly, this group didn't just talk - they listened to each other and ICST-ACT was established as a result of that combined clinical and community expertise."
The team was brought into being in August 2018 and continues to operate in the Carluke and Lanark. The approach is being used to inform future models of health and social care delivery across the wider partnership area.
Ms Dearie added: "At the very heart of the team's approach is the commitment to making a real difference to the individual, and more often than not, this is at the most vulnerable point in their lives. They do this with complete compassion and consummate professionalism."
Val de Souza, Chief Officer of South Lanarkshire Health and Social Care Partnership praised the team for the recent award success.
She added: "Clydesdale ICST-ACT have personified resilience, innovation and are solution focussed.
"Personal experiences and outcomes for service users and their families have been extremely positive. This approach embodies the very spirit of our vison: Working together to improve health and wellbeing in the community – with the community."
ICST-ACT fact file.
• ICST- ACT have a response time of one hour form the time they receive the initial referral from General Practitioner, and will visit and assess the patients suitability to remain and be safely managed in their own home.
• ICST-ACT is comprised of nurses, Allied Health Professionals and South Lanarkshire Council Home Carers who provide home based care and rehabilitation. The success of the joint working and enhanced relationships has led to acute care being delivered by the team.
• The team provide a number of clinical and social care interventions including assessment, planned review, monitoring of signs and management of symptoms of deterioration.
• On 1 August 2018 the new Carluke ICS-ACT team was implemented. As of 30 June 2019, 28 patients had been referred. Following assessment 26 were eligible to receive support from the new service model's integrated approach. All of the participants were safely supported to remain at home through intensive interventions.