Latest News
National Recognition Quality Improvement
Published: Friday, 01 December 2017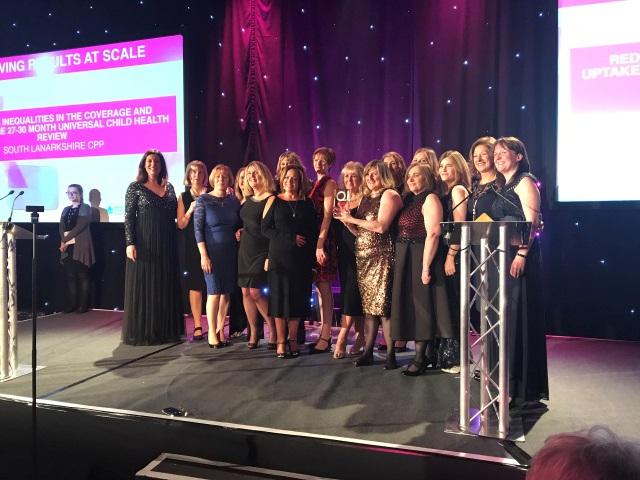 Team pick up a Quality Improvements Award 2017
South Lanarkshire Health and Social Care Partnership along with South Lanarkshire Community Planning Partnership have been recognised nationally for their work in improving young lives.
The team picked up a Quality Improvements Award 2017 for their work to improve services for babies, children, young people and families. The Quality Improvement Awards are designed to celebrate innovative quality improvement work that is strengthening support and services for families across Scotland, helping ensure every child has the best possible start in life and can reach their full potential as they grow up.
The South Lanarkshire team earned the top award in the Achieving Results at Scale category for a project to increase the number of families in areas of multiple deprivation taking up the 27-30-month Child Health Review (CHR).
The 27-30 month CHR is an important milestone in a child's life where the Health Visitor can work with the family to identify and respond to any development needs that a child may have.
Speaking on behalf of the locality health visiting teams, Vivian Boxall, Children and Young Peoples Improvement Collaborative Co-ordinator, said the recognition was testament to collective hard work and innovation.
"Family uptake of the CHR in areas of multiple deprivation was particularly low and a quality improvement package was developed, tested and implemented to improve this," Vivian explained
"This was supported by health visiting improvement champions, who empowered staff to make changes so that more families were able to attend the CHR.
"As a result, the health visiting teams have achieved a 26 per cent increase in uptake of the CHR and closed the uptake inequity gap from 11 per cent to 4 per cent between children living in the most and least deprived areas.
Vivian added: "By using data to track our efforts, by building on a strong sense of purpose and local knowledge and expertise, we were able to achieve these results."
Val de Souza, Director of Health and Social Care, South Lanarkshire Health and Social Care Partnership, said: "This national award clearly demonstrates the commitment of our staff to collaborative working, better practice and improving the life chances for babies, young people and families across South Lanarkshire."
The awards were open to those delivering quality improvement work through the Maternity and Children's Quality Improvement Collaborative (MCQIC), run by Healthcare Improvement Scotland and the Children and Young People Improvement Collaborative (CYPIC), run by the Scottish Government.
The 2017 awards attracted 140 entries across 10 categories, detailing how local people and teams have improved health, early years and family services and schools.