Latest News
Shielding animation offers essential guide
Published: Wednesday, 20 May 2020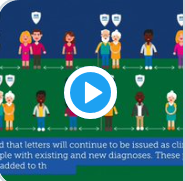 Shielding an essential guide
Lanarkshire's health and social care partners are working together to keep the most vulnerable people safe in a multi-agency 'shielding' exercise.
Shielding measures are tailored towards supporting people who are clinically at the highest risk of severe illness from the Coronavirus (COVID-19) by minimising all interaction between them and others.
This animation has been created to offer an essential guide to Shielding.
A list of FAQs is also available.