Latest News
New service to treat patients at Lanarkshire Pharmacies
Published: Tuesday, 12 December 2017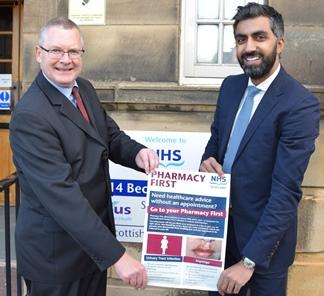 A new service is being rolled out across Scotland through the national initiative ' Pharmacy First'
Most community pharmacies across Lanarkshire can now directly treat patients for urinary tract infections (UTIs) without an appointment, with a similar service for impetigo to follow soon.
The new services are being rolled out across Scotland through the national initiative 'Pharmacy First'.
'Pharmacy First' allows patients to access advice and / or treatment for uncomplicated Urinary Tract Infection in women aged between 16 and 65 and impetigo for any adult or child over 2 years of age without have to see their GP first.
Patients seeking treatment for either condition will be asked about their symptoms to enable pharmacists to give the right advice and treatment.
Welcoming the initiative, George Lindsay, Chief Pharmacist, Primary Care, NHS Lanarkshire, said: "Both these conditions are very common among the general population and often account for a significant proportion of GP and out of hours appointments. Pharmacists are qualified healthcare professionals who train for many years in their field. It makes absolute sense to use their skills and knowledge to increase access to clinical advice - and treatment where appropriate - for patients within their community.
"We have 144 community pharmacies across Lanarkshire and, given the current, national pressures facing general medical and out-of-hours services, the benefits of pharmacists supporting the GP role in this way is invaluable."
Arif Hanif, the Chairman of Community Pharmacy Lanarkshire, described how pharmacy teams are throwing their support behind this exciting new service: "Community pharmacies provide unrivalled access to both healthcare professionals and highly trained support staff, without the need for an appointment in most cases. We are delighted to now be able to treat these two very common conditions as part of our suite of NHS services, supporting the people of Lanarkshire to access the right care from the right person at the right time, as close to home as possible. We are committed to making this service a success, and look forward to developing more ways in which to ease the pressure on our GPs and NHS24."
Dr Chris Mackintosh, Medical Director South Lanarkshire Health & Social Care Partnership, said: "This is an important development which makes best use of community pharmacies and GPs. Patients will benefit with faster access to this treatment which is good news. We can expect to see more of this kind of development NHS in Scotland in the future."
There are some exclusions which can prevent pharmacists treating a patient directly, for example patients who are pregnant or receiving cancer chemotherapy will need to be referred to their GP.
Patients can find the location and opening times of their nearest pharmacy at www.nhsinform.scot or by calling 0800 22 44 88.