Latest News
Community testing begins in South Lanarkshire
Published: Tuesday, 02 March 2021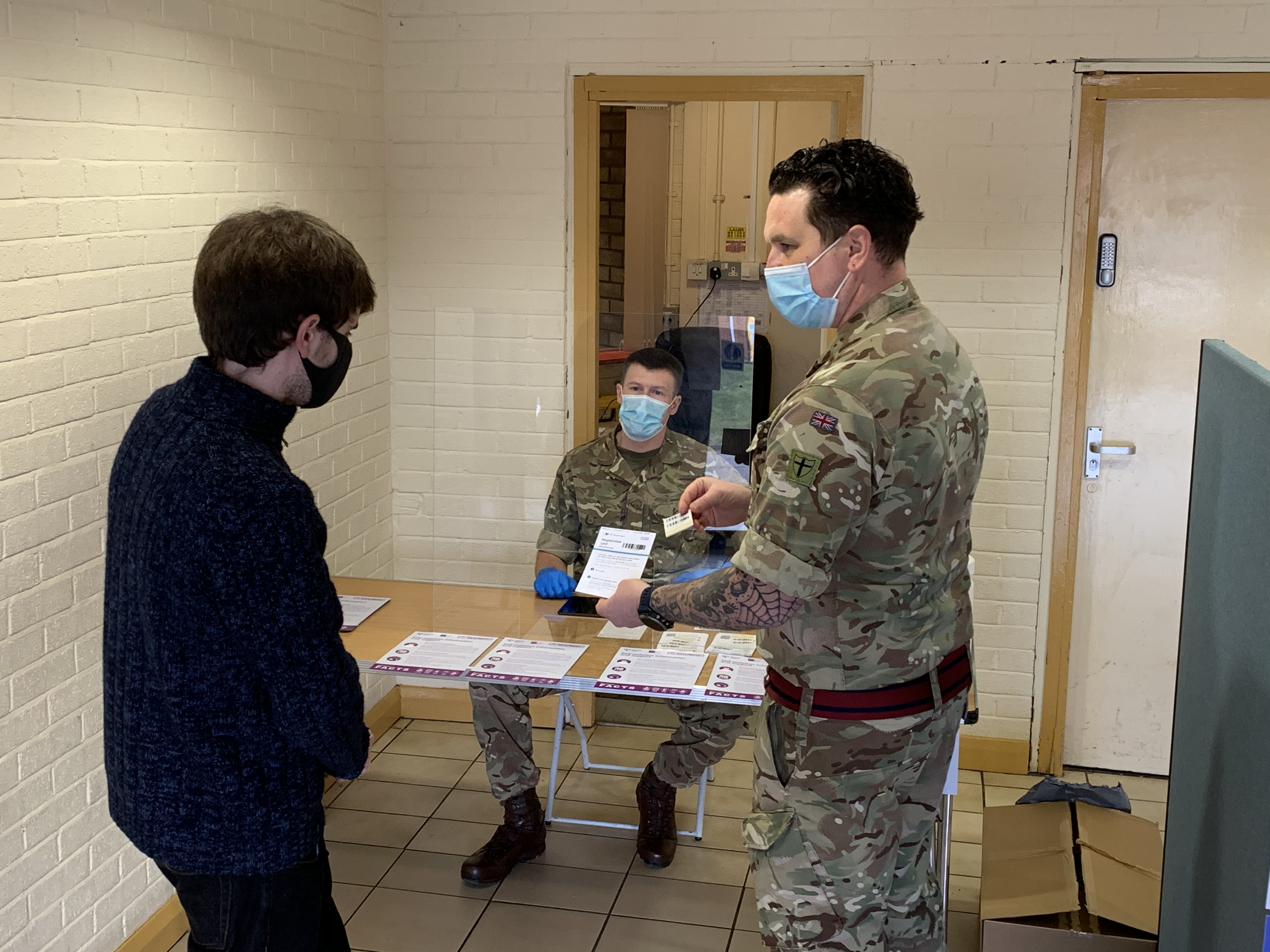 Rapid coronavirus (COVID-19) testing is now available for people without symptoms in South Lanarkshire.
The community testing initiative, in partnership with the Scottish Government, NHS Lanarkshire and South Lanarkshire Council aims to drive down local COVID-19 rates and transmission by identifying positive cases more quickly, as people can spread the virus to others before symptoms appear.
South Lanarkshire residents who don't have any of the three COVID symptoms (a new continuous cough, temperature, loss or change in sense of taste or smell) are encouraged to get tested.
Testing is available at Larkhall Leisure Centre, 9:30am to 5:30pm, from Saturday 27 February. There is no need to book.
This site is only for people without symptoms. Anyone with COVID-19 symptoms should book a test in the usual way via nhsinform.scot or by calling 0800 028 2816.
Residents will be tested using lateral flow devices, which can give people their results in around 45 minutes. Any positive cases will then be confirmed by PCR test.
Anyone who receives a positive LFD or PCR test result will be asked to self-isolate.
Dedicated support is available to those who meet certain criteria and who needs to self-isolate, including food packages and financial support.
Further advice and information on what support is available for people who need to self-isolate is available from nhsinform.scot
Gabe Docherty, NHS Lanarkshire Director of Public Health, said; "Covid-19 can be spread by people who don't have symptoms or the symptoms are so mild people may not recognise that they have the infection.
"For the benefit of yourself and your community, I would encourage people who do not have Covid-19 symptoms to get a test. The test results will help to detect the virus and limit its spread.
"If your test result is positive, the centres will give advice about support for isolation. If your result is negative, it is important that you continue to follow the current guidance including physical distancing, using face coverings and hand-washing to help reduce the risk of spreading the virus."
Michael McGlynn, South Lanarkshire Council Executive Director of Community and Enterprise, said, "We have worked with our partners throughout the pandemic to support our local communities, and an important part of that has been working together to limit the spread of the virus.
"The majority of people across South Lanarkshire have been doing their bit and keeping to the restrictions but, inevitably, some people in our towns and communities will be infectious with Covid-19 but won't have any of the known symptoms. Because they don't know they are infectious, this means they may be unwittingly spreading the virus while they are moving about in public.
"The new rapid community testing facility provides a further opportunity to identify and support people who may be positive so they can isolate, and it will help to reduce the spread of coronavirus and keep people in South Lanarkshire safe."
Public Health Minister Mairi Gougeon said: "Targeted testing in this way will help us find and isolate more cases, by targeting resources with communities where there is high prevalence, helping us to identify more cases of the virus and giving us all a better chance of stopping it from spreading.
"However, a test only tells us if we are positive at the point in time that we are being tested. It does not mean that we can stop following all of the rules and guidelines which are in place to protect all of us. Testing is only one layer of protection against this virus – all others, including vaccination and the FACTS guidance work to greatest effect when they work together, so it is essential people continue to follow the restrictions currently in place to suppress COVID to the lowest possible level in Scotland.
"This expansion has been made possible as our testing capacity has increased but it could not have happened without the support of our local partners, and everyone involved in Scotland's testing programme, from diagnostic staff to sample takers, and I want to pay tribute to each and every one of you as we continue to work to suppress this virus together."
Anyone with the symptoms of COVID-19 – a new continuous cough, temperature, loss or change in sense of taste or smell should go online to nhsinform.scot to book a test or call 0800 028 2816 if you cannot get online.
How to self-isolate effectively – Information and support for people who are asked to self-isolate because of COVID-19.
Remember FACTS for a safer Scotland:
F – Face coverings
A –Avoid crowded places
C – Clean your hands regularly
T – Two metres distance
S – Self isolate and book a test if you have symptoms