Latest News
New website to recruit GPs to Lanarkshire
Published: Thursday, 21 December 2017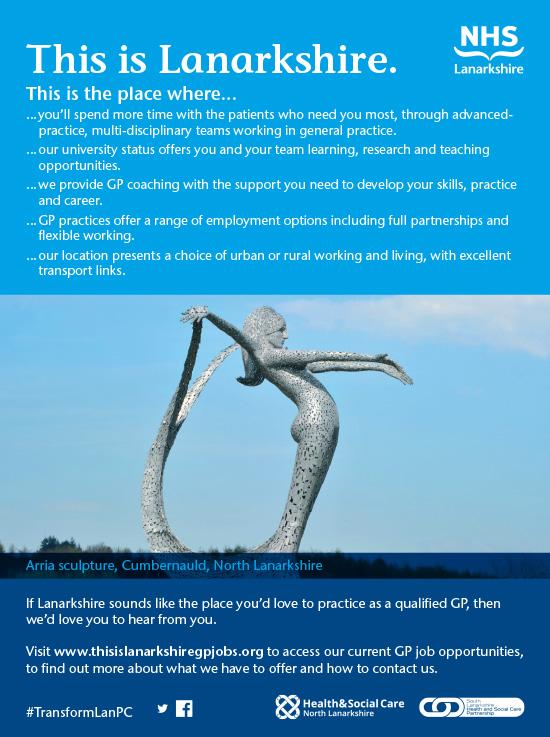 A new website promoting Lanarkshire as an ideal place for GPs to practice has been launched by NHS Lanarkshire.
'This is Lanarkshire' aims to promote what the board's innovative Primary Care and Mental Health Transformation Programme - and subsequent redesign of general practice - offers GPs, as well as the benefits of living and working in Lanarkshire.
NHS Lanarkshire's multi-disciplinary team approach to redesigning general practice reflects the current, proposed Scotland-only GP contract and therefore offers a unique and valuable opportunity of the future ways of working for GPs.
'This is Lanarkshire' is part of NHS Lanarkshire's latest recruitment drive with the first of a new series of adverts appearing in the British Medical Journal on 16 December, signposting interested applicants to the new site. As well as providing useful information for GPs considering working here, 'This is Lanarkshire' lists the current GP vacancies in Lanarkshire, linking potential candidates straight to the practice they're interested in.
Dr Chris Mackintosh, Medical Director for South Lanarkshire Health and Social Care Partnership, who oversees primary care across Lanarkshire, said: "Our direction of travel in transforming primary care mirrors that outlined in the proposed, new Scotland-only GP contract. While we recognise the there are undoubtedly challenges in ensuring availability of an expanded skilled workforce, Lanarkshire is well placed to deliver on the implications of the contract because we've already embarked on this change and believe we have a lot to offer GPs who are in the market for a new job.
"Our programme focuses on ensuring that people who need to see a GP can see a GP by providing patients with access to a wider range and number of healthcare professionals, alongside better opportunities for self-care.
"For GPs it means that they are able to best use their skills as expert medical generalists' to spend more time with the people who need them most."
Visit www.thisislanarkshiregpjobs.org to find out more.