Latest News
Mobile Mens Shed takes to the road
Published: Wednesday, 21 February 2018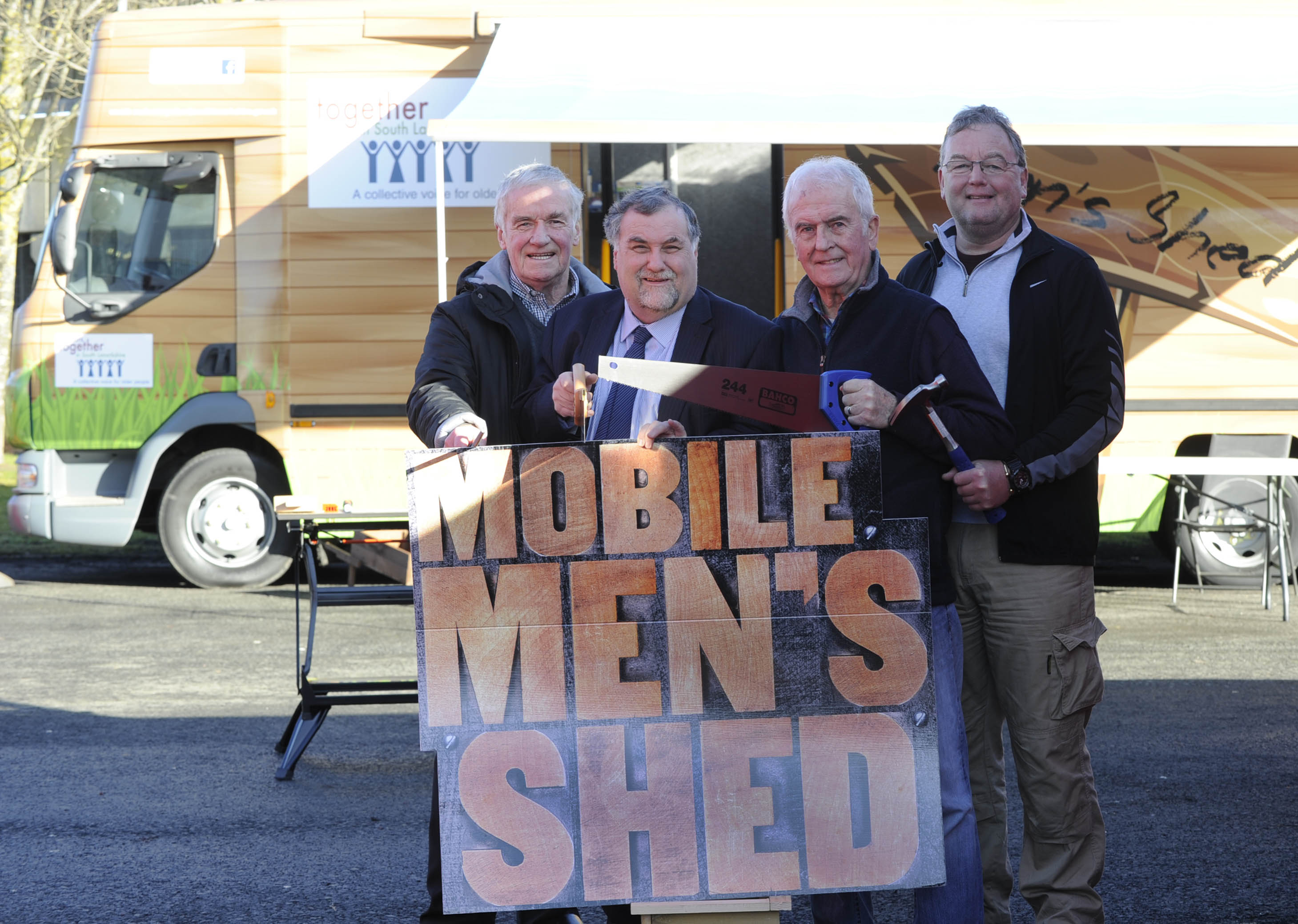 AN innovative programme aimed at tackling isolation and loneliness in older men is hitting the road in South Lanarkshire.
'Men's shed' has been running groups across the authority for the last few years providing opportunities for older men to socialise, build confidence and get involved in workshop activities.
Now, in what is a Scottish first, and thanks to £117,000 from the Big Lottery Fund, the 'mobile men's shed' will travel through communities bringing that chance even closer to those who need it.
The 'shed on wheels' will travel across South Lanarkshire delivering a programme designed to help to reduce feelings of loss, isolation and loneliness amongst older men in urban and rural communities by establishing new men's shed groups.
And to get the wheels in action, over the next three weeks, South Lanarkshire's Seniors Together team are undertaking a 'promotional tour' in key locations as a taster of what's on offer.
Cllr Jim McGuigan, South Lanarkshire's Spokesperson for Older People, was one of the first to visit the refurbished mobile library when it stopped off at Hamilton Accies football stadium today. He is full of praise for the initiative: "The Men's Shed model has proven particularly successful so far at engaging with individuals who might traditionally be seen as hard to reach.
"Becoming a member of a Men's Shed provides a safe and busy environment where men can meet in an atmosphere of friendship. And, importantly, there is no pressure. Men can just come and have a chat and a cuppa if that is all they're looking for.
"And whilst we are delighted with progress to date, the aim of the 'mobile men's shed' is to take that one step further. As the first council in the country to launch our shed on wheels, we can't wait to get started in supporting communities to buy into the ethos and establish their own static sheds that will be there for local men long after the mobile shed has gone."
Big Lottery Fund Scotland Chair, Maureen McGinn, said: "I am delighted that South Lanarkshire Seniors Together has been successful in securing a Big Lottery Fund grant. The funding will make a big difference where it is needed most and I wish the Mobile Men's Shed every success as it goes on to develop and expand its project for the benefit of the local community."
For more information about the project contact the Seniors Together office on 01698 454105 or email seniorstogether@southlanarkshire.gov.uk
The mobile men's shed will be in the following locations over the coming fortnight:
Thursday February 22nd – Tesco, Dalmarnock Road, Rutherglen
Friday February 23rd – Thornton Road Community Centre, Kirkmuirhill
Monday February 26th – Tesco, Teiglum Road, Lesmahagow
Tuesday, February 27th – University of the West of Scotland, Almada Street, Hamilton
Wednesday, February 28th – ASDA, Glasgow Road, Blantyre
Thursday March 1st – Stonehouse Lifestyles Centre
Friday March 2nd – Whitehill Neighbourhood Centre, Hamilton
Monday, March 5th – John Wright Leisure Centre, East Kilbride
Tuesday March 6th – Blantyre Leisure Centre
Wednesday March 7th – Larkhall Leisure Centre
Thursday March 8th – Jock Stein Centre, Hamilton
Friday March 9th – Carluke Leisure Centre