Home
News
Power of partnership working – and heavy plant – blaze a trail to the most vulnerable patients
Latest News
Power of partnership working – and heavy plant – blaze a trail to the most vulnerable patients
Published: Friday, 02 March 2018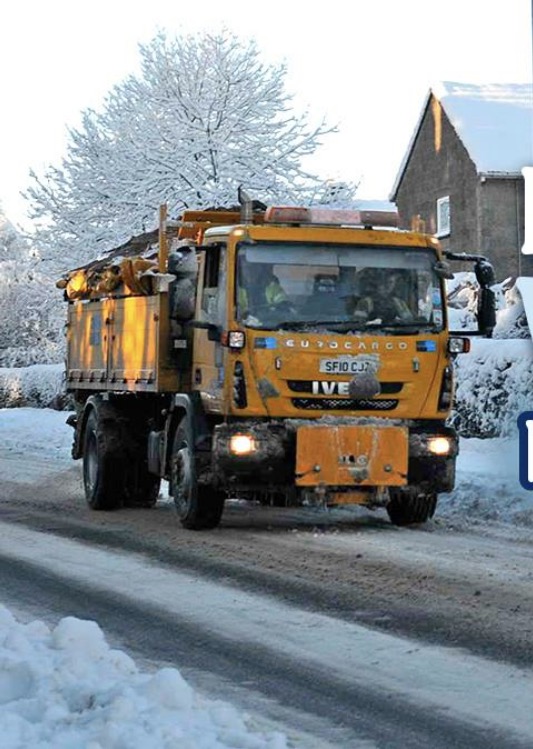 Local authority gritters have formed the steely vanguard of a health and social care team who care for vulnerable patients.
Local authority gritters and snow ploughs have formed the steely vanguard of a specialist health and social care team who care for some of the most vulnerable patients in South Lanarkshire.
South Lanarkshire Health and Social Care Partnership's (SLHSCP) Integrated Community Support Team (ICST) support people, the majority of whom are older, in their own homes.
Recipients range from those with complex care needs to less serious conditions - which could, however, require hospital admission if left untreated.
The team work throughout South Lanarkshire including Clydesdale which has sustained some of worst effects of Mother Nature's icy wrath this week.
Marilyn Aitken, SLHSCP's locality manager for the Clydesdale area, explained how the team's vital work was only made possible by the power of partnership working – and heavy plant.
"The ICST are currently providing care to a number of older people in rural and remote parts of the Clydesdale area. Some of the patients have also required through-the-night care.
"We've been working with Roads and transportation services who have prioritised keeping roads passable where our most vulnerable patients live.
"We've had snow drifts and many roads – especially in more rural areas – have been covered with layers of snow almost as soon as they've been cleared.
"Roads and transportation services have been working tirelessly - and around-the-clock - to blaze a trail through the very worst of the snow to ensure our frontline staff, including district nurses and home carers, have been able to reach their patients."
The ICST is comprised of nurses, occupational therapists, physiotherapists who work alongside social work and home care professionals as part of SLHSCP. The team work closely with hospital discharge staff and medical care is provided by the person's own GP who links, when needed, with hospital consultants.
Val de Souza, Director of Health and Social Care for SLHSCP said the efforts in Clydesdale are reflective of a wider, tireless commitment of a whole range of staff and partners right across South Lanarkshire.
"As the snow set down, we've witnessed great flexibility with staff providing cover and continuity of service. Many have stayed overnight in care homes and children's units where there's been challenges with shift cover, for example.
"Community hospital staff, health visitors, reception and treatment room staff, to name but a few groups, have all battled in similar fashion to ensure services have continued.
"Our staff and partner colleagues have gone the extra mile this week, many quite literally, to deliver care and support."
South Lanarkshire Council's Head of Roads and Transportation Services, Gordon Mackay, said: "Our teams have been working hard across South Lanarkshire to keep the area moving as much as possible during very challenging conditions.
"When our Health and Social Care colleagues let us know of vulnerable people who they have to reach, we always do everything in our power to ensure they can get to them.
"I'm delighted that the efforts of our teams have had a positive impact on so many people."