Latest News
Health and social care forum's newest recruit bringing a fresh pair of eyes
Published: Wednesday, 07 March 2018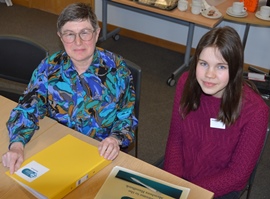 A FOURTH year school pupil from South Lanarkshire is pursuing her dream of becoming a Doctor - by helping to shape local health
Mhairi Finlayson, a pupil of Strathaven Academy, has just attained a string of top marks for her prelim exams as she focuses on a future career in medicine.
Outside of her studies, Mhairi is already making a valuable contribution to people's lives by joining her local Health and Social Care Forum.
Appointed by South Lanarkshire Health and Social Care Partnership (SLH&SCP) as its key route for community consultation and engagement, the forum is an independent group of community volunteers.
There are Forum groups in each of South Lanarkshire's four localities, feeding into the central Forum. Among various functions, these locality Forums work at grassroots level to support wider public involvement in planning and decision-making about local health and social care services.
15-year-old Mhairi explained how she's able to bring fresh pair of eyes – and speak up on many issues close to her heart.
Mhairi, who has been volunteering for East Kilbride and Strathaven Forum, explained: "I've been feeding into our local chairperson, Sonia Reid, and talking about some of the issues that are affecting young people.
"Among some of the challenges I see around me are the pressures on young people brought on by social media. This can range from online bullying to the fact that social media is constantly there and young people can't get away from it.
"It's fairly well publicised but I personally believe that social media in some instances can have a detrimental impact on young people. I've been feeding back my views to the Forum about these pressures, the need to be proactive in education as well as the need to have adequate provision to support young people if they are experiencing challenges in their lives, whether it's through social media or other sources and circumstances."
Mhairi added: "As well as being able to have a voice, I'm also learning a great deal about health and social care, about how it's structured, delivered and the processes around decision making.
"I also have the opportunity to attend Forum meetings which involve communicating with other members and presenting viewpoints in a formal but relaxed meeting environment.
"I feel that belonging to the local Health and Social Care Forum is not only giving me valuable insight but I'm also developing skills I hope will serve me well for my future career. It's been really worthwhile and enjoyable so far."
Val de Souza, Director of Health and Social Care SLHSCP, said: "We are delighted that Mhairi is involved in the local Health and Social Care Forum, bringing fresh perspective to their vital work.
"This level of involvement exemplifies our vision, Working together to improve health and wellbeing in the community – with the community."
Praise for Mhairi's contribution … and a chance to get involved
Sonia Reid, Chair of East Kilbride and Strathaven Health and Social Care Forum, said: "Our aim is to inform, involve and support the communities of South Lanarkshire in the development of health and social care services that are appropriate, responsive and accountable.
"That begins with making sure local people know who we are, how to get involved and how to get in touch. Mhairi's insight and contribution thus far has been invaluable and we are delighted to have her on board. I hope more people will become aware of their local forums, get involved and contribute their ideas."
Margaret Moncrieff, chair of the SLHSC Forum, representing all the localities, added: "We are keen to recruit new members to the forum but anyone can get involved in influencing local health and social care issues by simply getting in touch either by phone, tablet or PC – whatever way suits best. We have a committed and experienced membership but we're also keen to hear new ideas and the views of young people, like Mhairi, in particular."
For more information on South Lanarkshire Health and Social Care Forum visit www.slhscp.org.uk and click on Get Involved. Alternatively contact 01698 858366
Pic caption (Forum one and 2) Sonia Reid, Chair of East Kilbride and Strathaven Health and Social Care Forum working with Mhairi Finlayson